'Last Christmas' steals hearts
New kind of holiday film has few missteps and positive message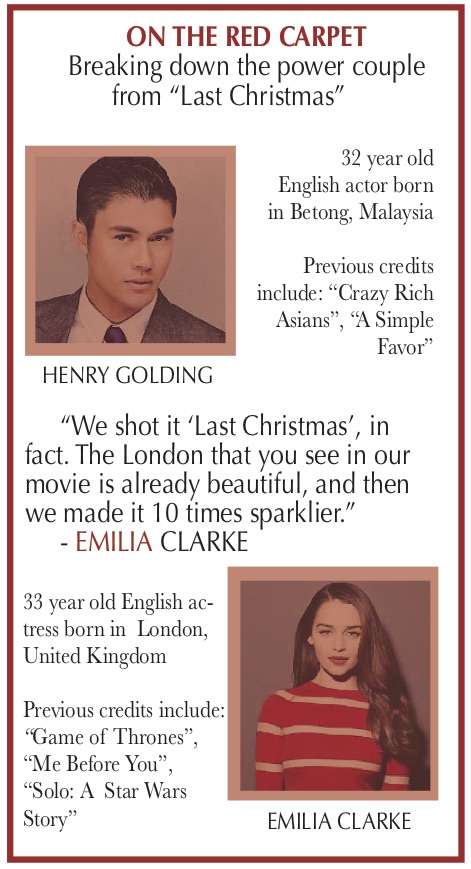 "Last Christmas, I gave you my heart." Literally.
As a cheesy romantic comedy-fiend, I knew I would adore Last Christmas. I wasn't wrong. Though I predicted the ending halfway through, after wrongly guessing that Henry Golding's character was the one and only Santa Claus, the chemistry and Christmas-time cheer made the film more than enjoyable.
From the beginning of the film, Kate, played by Emilia Clarke, is the antithesis of your typical heroine. She's selfish to the point of no-return, living life with no consideration for those around her. Nevertheless, with knowledge of her heart problems and attempts to be empathetic, it is clear that she's redeemable.
Enter Tom, Henry Golding, quirky (with his seemingly significant but in-the-end insignificant catch phrase "look up"), unplugged (his phone has been in a cupboard for the past two months), and always willing to help.
Upon their first encounter, the chemistry between Kate and Tom is undeniable. While meeting each other, during which a bird poops in Kate's eye, the emotional and verbal exchange that the two share is well-played.
As the movie's tone shifts, however, into less of a traditional romantic comedy and more of a coming-of-age tale of growth, the chemistry between Kate and Tom shifts as well.
Tom grows more distant, appearing only when Kate is in dire need. As a result, she's able to grow, becoming a better person on her own rather than because of him. It's refreshing to see her experience a period of growth that is not solely hinged on her romantic relationship, especially one that is entwined in the joy of the holiday season.
In that manner, the happiness of Christmas serves the movie well with George Michael hits not just limited to "Last Christmas". But more importantly, the movie brings a smile to one's face, emphasizing Christmas as a time for reconciliation and compassion. It's a theme that is developed as Kate grows closer to her family and begins to volunteer at a homeless shelter, set up a talent show, and sing songs for charity.
I don't normally cry or laugh during movies. But at the realization that the movie was about learning how to live by helping others, I shed a few tears. And during a scene filled with Kate's sarcasm, Christmas lights, and the awkward relationship between her boss and her boss's Sauerkraut-loving lover, I couldn't help but laugh. The spirit of Christmas truly resides within the film.
Of course, the film isn't without faults. It's predictable to a T, but then again, what Christmas movie isn't? Furthermore, the addition of a somewhat predictable twist at the end and other pieces of commentary (on feminism, technology addictions, and Brexit) are engaging, but seem misplaced or carelessly crafted. The movie is set in 2017, setting the stage for a line about Brexit that seems forced, and certain parts of Tom's characterization simply don't make sense.
Still, Last Christmas is one of the best worst movies I have ever seen. As a sucker for rom-coms and Hallmark movies, the film is far from unwatchable, acting as a classic, perhaps, for the years to come.