Feels Like Christmas
Visiting the Tannenbaum Christmas Shop to find some holiday spirit in Omaha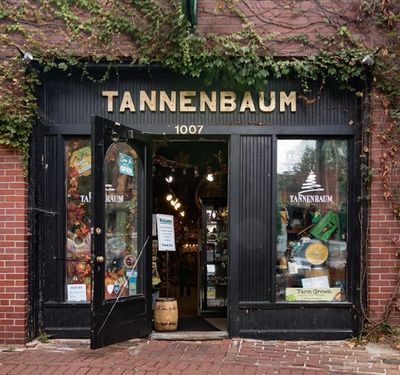 Walking down Howard Street of the Old Market, street lamps lit up the brick road.  The weather was brisk and windy and my hands shook from the cold. Snow trailed the ground as I stepped into a shop with vine detailing and Christmas lights trailing up the sides to find some warmth– the Tannenbaum Christmas Shop.  Instantly captured in the Christmas spirit, I decided to look around for a while. 
Entering the Christmas shop, the cold air was left behind the door as it closed with a ringing bell. The shop smelled of hot chocolate and Christmas nostalgia. A small ramp led me to the open floor of the store. The shelves are immersed with red and green knick-knacks showcased across every display.  
Ornaments hung from the ceiling and the walls of the shop, varying from seahorses to tacos to Dr. Who. I turned a corner and there was a display of comfy socks, and around another corner led me to a display of children's books and games. 
As I shopped, "Let it Snow" played in the background. I walked over to a section dedicated to Christmas ornaments from different countries. The ornaments showcased flags and popular holiday sayings in other languages, such as "Frohe Weihnachten" in German, or "Feliz Navidad" in Spanish. 
Tannenbaum is a popular shop visited by tourists and has invited citizens from other countries to shop for holiday decorations. As a tourist attraction, Tannenbaum is the perfect location to pick up a souvenir. 
The shop is located in downtown Omaha, so the display dedicated to Husker-related Christmas decorations is to be expected. While the section celebrates NE football, it also invites tourists to purchase something memorable for their stay in NE. 
By the end of my visit, it seemed almost impossible to leave the shop without a memento. I bought an ornament and a small nutcracker. The shop is perfect for purchasing any decorations for your home or a nice Christmas gift for a friend. 
Walking out of the shop; I took a final glance at the ornaments hung from the ceiling and shimmering lights. The bell hanging from the door made a final chime as I walked back into the cold night. Leaving the shop and returning back to the familiar brick road left me with excitement for the holidays. 
The Tannenbaum Christmas shop was the perfect place to visit to get me in the Christmas spirit. Overall, I would recommend it to anyone visiting the downtown Omaha area to celebrate and be mesmerized by the holiday season.