Swingin', Singin', Bringin' The Blues
Senior sings in an international blues competition with her new band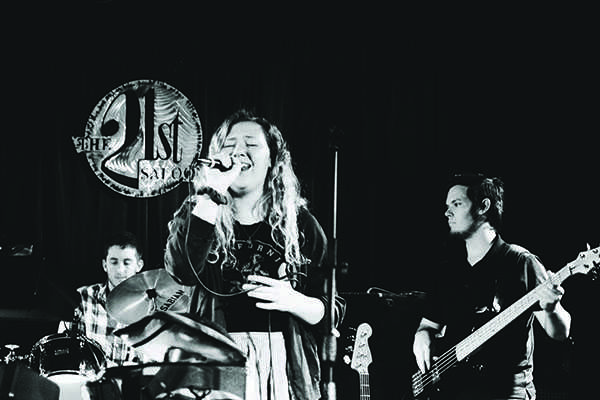 Resonating claps echo throughout the room as one band takes center stage. Eyes wait impatiently for the craving melody of soul. In mere moments, a single thud on the drums brings life to a lively and enchanting lament. Smiles curve on the lips of all who observe the energetic band deep within the spirit of the blues.
"I love music and performing because it's my way of changing the world. Through music I am able to connect with hundreds of people at a time and share my story not just through words but notes and rhythms that mean something to me," senior Olivia Klein said.
Sharing Klein's passion for blues music, the International Blues Society has been preserving and celebrating blues music across the world since 1980. Every year, a national competition is held from Jan. 3 to Feb. 4 in Tennessee for bands to compete for the unofficial title of the best blues band.
"I think the International Blues Society is a very impactful organization because they bring musicians together from all over the world and even though it's competitive you can learn so much from other musicians in the way they write, play, and perform the music. Making connections in the music world is so important and the International Blues Challenge is the perfect place to do it," Klein said.
Only one band can represent the Omaha Blues Society in Tennessee for the national competition and in order to select this representative, bands must compete in Omaha's very own Battle of the Bands. Klein hopes to bring home the winning title with her newly formed band, the Roadrunners.
"The Roadrunners are going to shake things up a bit with our youth and 'modern blues' twist. As a female in a primarily male dominated profession, I hope to alter the preconceived ideas that only males can sing soulful blues," Klein said.
After having their previous lead singer quit, the Roadrunners contacted a BluesEd clinician for soulful singers within the youth blues program. They were quickly introduced to Klein and eventually asked her to join their band.
"The band has come a very long way since we have added Olivia. Olivia's voice has added another element of soul to our band. She has good range, good control, and sings from her heart, which is a very important element to the style of music we play," band mate Ben Curran said.
Meeting at least once a week, the Roadrunners set a goal for each practice in order to stay on task and help prepare for the Battle of the Bands competition. Practice typically runs from around two to three hours or until their set objective has been reached.
"It is a very difficult process because judging art can be very subjective. We are trying to play music that stays within the realm of blues but also intrigues the judges as well as our audiences," Klein said.
Klein is also a member of the BluesEd Youth, a program for aspiring young musicians interested in the blues genre. Before joining the Roadrunners, Klein sang for the Redwoods, one of the six kid bands in the youth program. On top of BluesEd, Klein has also been a part of School of Rock and has been playing at live gigs since eighth grade.
"Performing has changed my life so much. I am now able to freely express myself in all aspects of my life. Over the years of performing I've learned that I don't sing for myself, I sing for others. I sing to bring people joy and help them forget about the world for a little while and that feeling is one I never want to forget," Klein said.
On top of their Battle of the Bands competition on Oct. 23, The Roadrunners are also opening for a well-known blues artist, Hector Anchondo on Nov. 23 at The Waiting Room, a classy and live music venue in Benson.
"No matter what the results of the competition are, I'm proud of the hardworking and dedication that has gone into this band, and I know we will grow from the experience from any outcome. I plan to continue singing for the rest of my life and hope to make a difference in this world with my voice," Klein said.