It's About the Climb, Not the Destination
MN student competitively rock climbs since childhood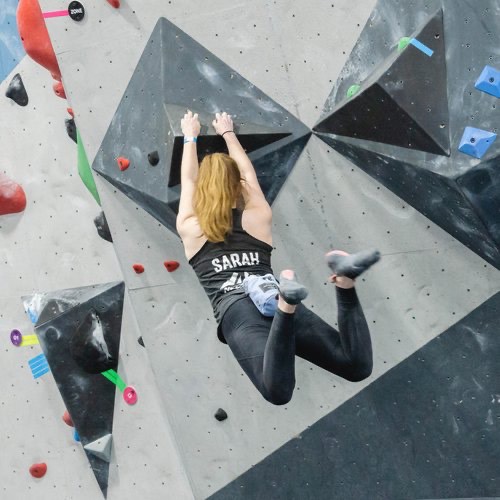 Six-year-old Sarah Wood scaled the ladder and flew across the monkey bars, excitedly climbing her way around the entire playground. Now, as a senior, Wood has been rock climbing for six years. 
"I had kind of heard about [rock climbing] because American Ninja Warrior was a popular show to watch when I was little. And then there was a woman who my mom was friends with at my elementary school who suggested it to me when she saw me climbing at the playground," Wood said.
Wood's mother, Julie Wood, took the suggestion and decided to take her to a climbing gym in Omaha, opening the door to a future of countless hours spent rock climbing during practices and at competitions. 
"[Sarah's] interest in climbing changed from being originally something she just enjoyed to being something she enjoyed, but also wanted to pursue and continually improve," J. Wood said.
Wood's focus on becoming a better rock climber was shown in her transition from a kids climbing club, to a competitive climbing team, to finally breaking away with some teammates to form an independent, highly competitive youth team now based in Lincoln– Nebraska Climbing. This team is comprised of seven kids– the only ones in Nebraska who travel and compete regionally in rock climbing.
"I've known a lot of them for years, which is really nice. We do lots of things outside of practice together as well, to hang out. I know that we decorated posters for the kids going to nationals, or we'll go out and get ice cream or meals together after," Wood said.
Besides enjoying time spent with teammates, one of the aspects Wood loves about rock climbing is that it is always changing– something she didn't experience in her previous sports of dance and volleyball.
"At the gym, the route setters will reset the routes every week. There's always new routes for you to try. I like the aspect of change and having to adapt and seeing something new for the first time, and having to learn how to do it quickly," Wood said.
Matt Beio has been coaching Wood's team for one year, and has observed Wood's many climbing capabilities firsthand. 
"Sarah is very smart, which adds to her ability to problem solve as well as make decisions quickly if she thinks something will not work. Sarah's biggest strength (besides her mental ability) would be her core strength. She is extremely calculated in her movements and knows how to use her core to slow herself down and move deliberately," Beio said. 
Although Wood has proven to have a talent for climbing, that doesn't always make it easy. Rock climbing brings plenty of challenges for those who participate and compete– both physical and mental.
"Since I do three or four hour sessions, the hardest part for me is my skin will get really ripped up, and I will come home and realize that I could probably rob a bank, because I have no fingerprints on my hands," Wood said.
In addition to physical discomfort, Wood has also had to overcome difficult mental states when climbing. 
"For me, it was hard to adjust to the mental aspect of rock climbing. You have to approach every new route like you didn't climb anything before. You have to come in with the mentality of: put the last boulder behind you, look at the next route in front of you," Wood said. 
Despite these challenges, Wood pushed through with the encouragement of Beio, who, along with J. Wood, can see that Wood has grown throughout her years of rock climbing, both in the sport and in life skills.
"I have been extremely impressed with Sarah's dedication and pursuit of climbing. Climbing has taught her so much– she has gained self-confidence and learned how to work hard to face and overcome fears and challenges. Climbing has become a true passion of hers, which I expect will be lifelong," J. Wood said.