Can't Help Playing The Ukulele
Students strum ukeleles during passing periods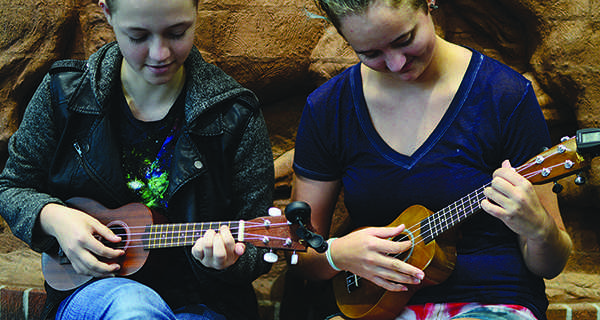 As you are walking down the halls, a bubbly tune may find its way to your ears. This music is coming from a small apparatus known as a ukulele. Lately, there has been a  rise in the popularity of this light-hearted instrument, so much so, that a few  students have been playing it around the school.
Music groups such as Twenty One Pilots and Vance Joy, who use the ukulele in many of their songs, have brought publicity to this "mini guitar." Juniors O'Bryen Edwards and Makenzi Hawk are two students who decided to pick up this instrument.
"I have a lot of friends who play the ukulele and I owned one so I thought might as well learn!" Edwards said.
Music is a very important factor in many people's lives for expression and creativity. According to both juniors, the ukulele is not a terribly difficult instrument to learn.
"It was really in the spur of the moment. I really enjoy music, so I thought, I have this instrument so why not learn it," Hawk said.
Edwards and Hawk have both received positive responses from teachers and friends, but unfortunately have received some backlash on social media.  Neither seemed to to have let that affect their decision about playing the ukulele during school.
"I'm the kind of person who walks to the beat of their own drum," Edwards said.
Contrary to popular belief, ukuleles are not specifically used just to play songs made for the ukulele. With the ukulele, one has the ability to play all sorts of songs from different genres and styles with a unique sound.
"'Can't Help Falling in Love' by Elvis is one of my favorite songs to play," Edwards said.
Since the ukulele is a higher pitched instrument, there is a certain "carefree" or "no worries" mood associated with it.
"I like how it always sounds happy, even if you are playing a sad song. The way the strings work make it sound happy," Hawk said.
The ukulele has impacted these juniors in a really positive way and has allowed them to express themselves differently.
While walking through the halls always keep an eye out, or an ear, for the light strumming of a ukulele coming your way. You never know, maybe you'll decide to pick it up.
"I really enjoy playing the ukulele, it always lightens up my mood, especially when I am feeling down," Hawk said.