Signees Striving for Success
Senior soccer signees focus on their upcoming seasons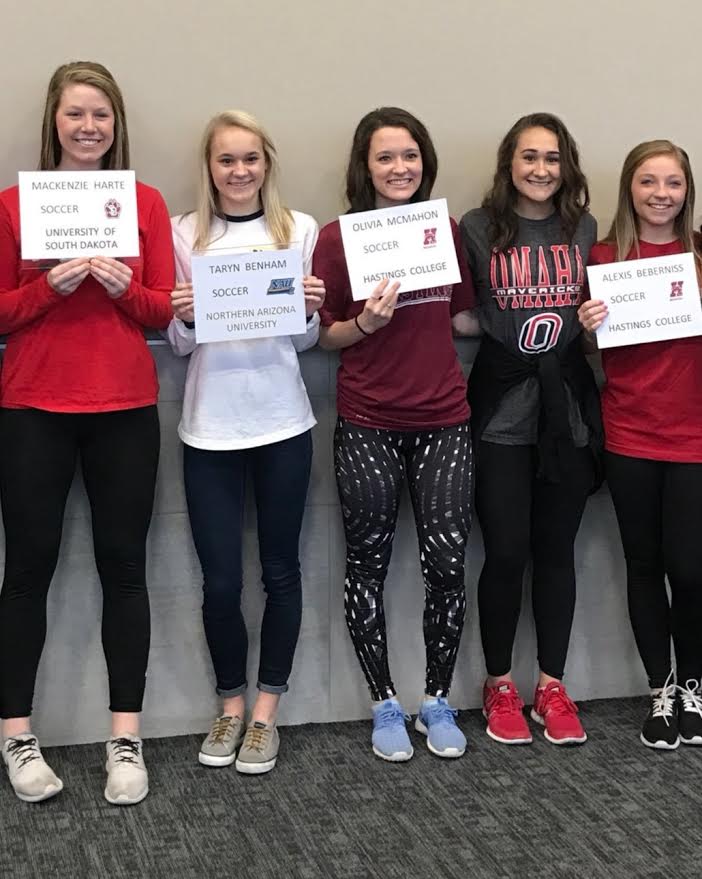 Second semester, senior year, senioritis at an all time high. Decisions about the future must be made. Seniors are waiting to be accepted and colleges are waiting to be chosen. There are some students, however, who are ahead of the game.
Many senior athletes officially signed with the college of their choice on Feb. 1, setting the path for their future. Among these signing athletes was a large amount senior soccer girls. Their final high school season is quickly approaching, and they intend to stay ahead of the game leading into their college careers.
Senior and goalkeeper Taryn Benham signed with Northern Arizona University after attending summer camps there her entire high school career.
"It gave me a sense of accomplishment because it's something I've always wanted to do my whole life, and it was just crazy that I got to do it at the school that I actually have always wanted to go to. I've dreamed of going there," Benham said.
While Benham will travel across the country to continue her soccer career, senior and forward Bailey Cascio will continue hers closer to home. Cascio signed to play for University of Nebraska Omaha (UNO) this upcoming year.
"It felt like I am super close to going to college which is super exciting, but it was awesome to finally put it on paper and make it official," Cascio said. "I'm a homebody so I want to stay close to home. It just felt right when I visited."
The girls will make the most of their final high school season by training hard with their team and getting as much playing time as possible. Some of the signees are even going down to their college for summer training after their senior year. Senior and center-mid Olivia McMahon will be playing for Hastings College.
"I want to try and focus on high school and enjoy the time that we have left because it's a really short season, and we really want to win State this year. I feel like that will lead me into the transition of college," McMahon said. "I just want to try and keep myself in the moment for high school season so it doesn't go too fast."
The goal of being on a soccer team is to not be a benchwarmer. For the MN girls soccer squad, they have no intentions of being near that bench during the season.
"I want to play as much as I can obviously, but the main goal is to go in, make an impact, be able to play as a freshman, and hopefully win a National Championship, if we can," Cascio said.
College helps students learn new things about the world and themselves, but it also allows students to keep parts of their life for a bit longer.
"I think I just wanted to continue playing because I wasn't really ready to be done with soccer," Benham said. "And it's a good way to stay involved in college and not slip up because people are always making sure that you're keeping up with grades and other things."
Signing for college begins the next stage in an athlete's career. Many have played for the majority of their life, and committing to a college is the ultimate accomplishment to those years of hard work.
"I've played soccer since I was 4-years-old, so for 14 years, and it just felt like all the hard work and sacrifice and everything I've done for those 14 years of playing the game that's been so important to me has all lead up to that moment when I signed and all my work paid off," McMahon said.
These girls, along with all other student athlete signees, have worked toward this goal of playing for college, and they have reached it. But the work doesn't stop here. They will continue to work to be three steps ahead of the game and on the field.