Defending the name
Girl soccer competes with target on back this season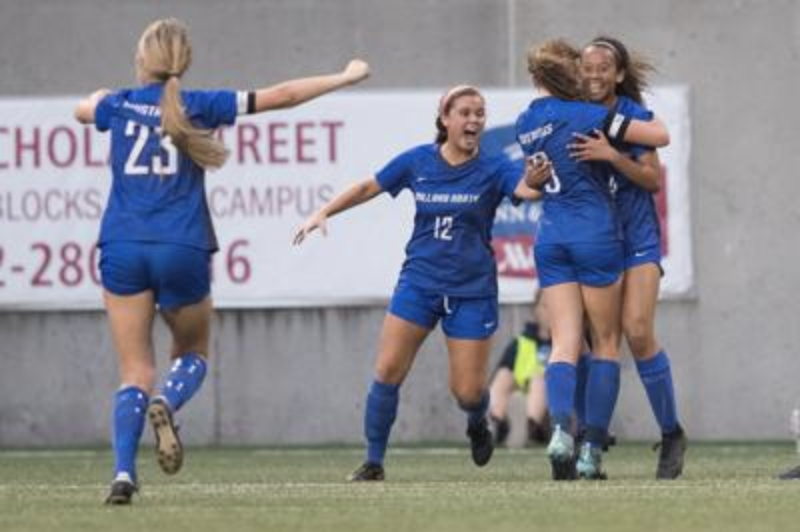 Over the past several years, the girls soccer team have proven their dominance and climbed their way to the top of the food chain.
The Mustangs have appeared in the last three consecutive State Championship matches, and with a 1-0 win over the Marian Crusaders in the 2018 final, the team holds the title as the reigning State Champions.   
This year's team aims to pick up right where they left off last season, but with this label the Mustangs are a major target for other teams looking to steal their glory.
As Head Coach James Abueg moves into his fourth season leading the team he is aware that other teams will be gunning for them, but is focusing more on his team's actions rather than other team's objectives.
"I think some of the girls feel there is lot of pressure to repeat [a state title] and so it will be about making practice fun and improving team chemistry," Abueg said.
Seniors Delaney Grant and Kaitlyn Thiele are beginning their final season as Mustangs. Both Grant and Thiele have played on the varsity team since they were freshmen and have experienced a state championship final each year. They don't plan to make this year any different and hope to once again come out on top.
"My goal for this season is to replicate the same result from the 2018 season. I expect that we will have a target on our back and all of the teams are ready to beat the reigning state champs, but it's important to defend our title," Thiele said.
The team has spent their off months preparing for the season with a conditioning program consisting of running and lifting and have participated in a winter indoor league. Despite their offseason efforts, the team inevitably expects to face challenges.
The Mustangs are missing a few key players this season due to injuries, graduating seniors, and players pursuing other paths. Despite this, the returning players and incoming freshmen are prepared to make adjustments that can accommodate for their losses.
"I think we have a lot of young talent waiting to step up and be leaders on the field. Just adjusting to new styles of play and finding our groove will be a challenge, but I have so much faith in our team and our ability," Grant said.
Last season's state title is still echoing in the team's minds, but the reigning champions are familiar with the pressure and are primed to face the challenges that will arise in order preserve their place at the top.
"We just need to take it one game at a time and use the feeling of winning state to motivate us to work hard and do anything in our power to achieve that feeling again this year," Grant said.