Ballpark build-ups
Athletic facility additions for future advantages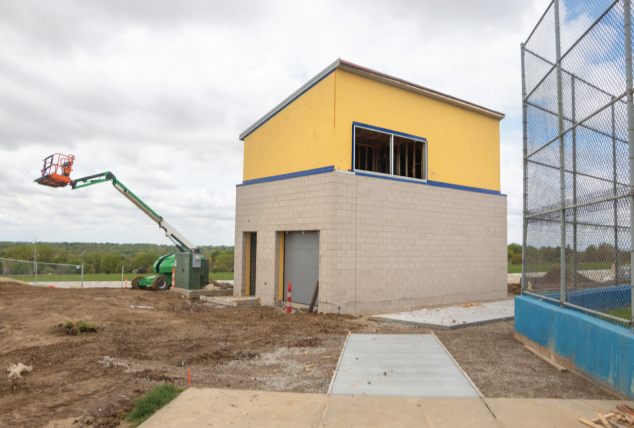 Porta potties, equipment scattered in four separate locations, and scrambling in and out of the school for water will soon be problems of the past for the softball team.
In October of 2018, construction began on two new buildings going up next to the softball field, one of which will serve as a press box, and the other will provide restrooms, a concessions area, and additional storage.
"It will make the field complete. We've always had a good playing surface, but with the addition of the press box, concessions, and restrooms, everything we need will be right there," head softball coach John Swoboda said.
The additions will provide a much-needed update and will put the softball facilities on a similar level as the baseball facilities which already have a press box and restrooms.
"I think it puts the [softball team] on par so they feel as supported as boys sports. We want to make sure our girls' sports feel as supported as our boys, and obviously, we have had a lot of success around here in girls' sports lately," Activities Director Chad Zimmerman said.
The new buildings will likely have the biggest impact on the softball team, but they will also greatly benefit the track and field teams by offering storage for high jump and pole vault pits as well as outdoor restrooms.
"We typically host two [track] meets a year so we will now be able to have restroom access outside which will be huge because in the past we have had to funnel kids inside, and it has not been a great set up," Zimmerman said.
MN is not the only school with softball improvements underway, as the district has decided to improve all three softball facilities at each of the three high school campuses.
"We are very fortunate that the district recognized that they wanted to up our softball facilities as a whole. I think it's awesome and exciting for our players and coaches, and I'm greatly appreciative of our district for finding the funds to support it," Zimmerman said.
Construction is set to be done by July 1 so that the softball team can enjoy the added amenities next season with the hopes that the investment will be of benefit for the future of the softball program.
"It will give us one of the nicest fields in the state. As an athlete, when you go into a park or stadium that is really nice, it makes you want to play even more. Our athletes will have that everyday," Swoboda said.