Same Club, New Name
A new identity: GSA becomes SAGA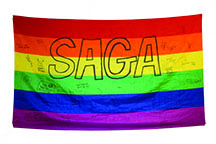 Sunlight spills into MN Art teacher Ms. Tredway's vibrant, brightly lit classroom. About 20 students of all grades lounge on art stools, laughing and peppering questions to one another. A rainbow flag hangs in the back of the room, delicately hung yet proudly displayed.
This atmosphere is typical of most SAGA meetings. Formerly known as GSA, the Sexuality and Gender Acceptance Club is designed to be a safe space for students to express themselves.
"I wanted to meet more people like me… it looks like a fun…[and] supportive group of people," sophomore Rebekah Callan said.
SAGA meets every Wednesday after school in room 1104. Each meeting consists of introductory activities, games, and lessons in which one can learn about different aspects of the LGBTQ+ community. In addition, they have activities outside of the club, such as movie nights and cookie decorating sessions, in which students can relax and get to know one another.
The decision was made earlier this year to change the name of this club from GSA to SAGA. GSA is an acronym for Gay-Straight Alliance, which is a nationally recognized organization with the intent of spreading support for youth who are a part of or support the LGBTQ+ community.
However, MN is not registered with the GSA Network. They are registered with GLSEN, the Gay-Lesbian-Straight Education Network. Thus, it was felt by students involved in leadership for the MN GSA that it was time to change the name of the club.
"It sounds prettier. GSA stood for Gay-Straight Alliance, but SAGA stands for Sexuality and Gender Acceptance. It's more inclusive of our bi and pansexual members, as well as our non-binary and transgender students. It's just more welcoming," senior SAGA President O'Bryen Edwards said.
It was a fairly easy, yet lengthy process in changing the name. After letting members know that the name would be changed, Edwards and junior SAGA President Camryn Tokos filed a form at the office requesting to change the name from GSA to SAGA.
They then had to define the qualifications, purposes, rules, and guidelines of the club, as well as have a form signed by 30 students that were interested in the club. After a short wait, administration gave the newly branded SAGA the stamp of approval, allowing them to resume meetings in the fall.
"Changing the name was kind of a daunting process at first. I didn't know how it would go over with our current members, and I wasn't sure how that would affect us gaining new members. But I felt quite confident that this was the right decision to make," Edwards said.
Students in the club encourage others to come and join them in raising awareness and acceptance. While many perceive SAGA as a club solely for those that are a part of the LGBTQ+ community, SAGA members say that they hope students of all identities come to a meeting and take part in some of the learning and fun.
"If you're looking for a group of accepting people to be around," Tokos said, "you will always be welcome at SAGA."