'Don't Panic'
COVID-19 finds Nebraska, doctors give advice
"Don't panic."
Infectious disease experts from The University of Nebraska Medical Center (UNMC) and Nebraska Medicine emphasized this message in their Jan. 21 press conference regarding COVID-19, otherwise known as the Coronavirus. 
As of March 20, the Centers for Disease Control and Prevention (CDC) report that there have been over 15,000 cases in the U.S. between 54 jurisdictions (all 50 states, the District of Columbia, Guam, Puerto Rico, and the US Virgin Islands) that are either confirmed positives or suspected to be so, over 200 of which have resulted in death. Meanwhile, according to the World Health Organization, as of March 20, 159 additional countries from every habitable continent have reported at least one case of the virus. 
According to UNMC Newsroom, 13 U.S. citizens, all formerly aboard the Diamond Princess cruise ship, were evacuated to UNMC on Monday, Feb. 17, with an additional two being brought by Feb. 26. Of the 15 total patients, 13 have tested positive, all of which are currently being held in either the National Quarantine Unit or in the Nebraska Biocontainment Unit. These individuals are not included in the CDC's report, as it excludes U.S. citizens that have returned for testing. 
The Diamond Princess was originally docked off of Yokohama, Japan, where infectious disease physician for the UNMC Biocontainment Unit Dr. James Lawler traveled to bring the initial 13 to Omaha. 
"I think it is fair to say it is a pandemic at this point, even though the WHO has not officially declared it as such," Lawler said. "In terms of what would meet the definition of a pandemic by any epidemiologist's measure, I think we are there."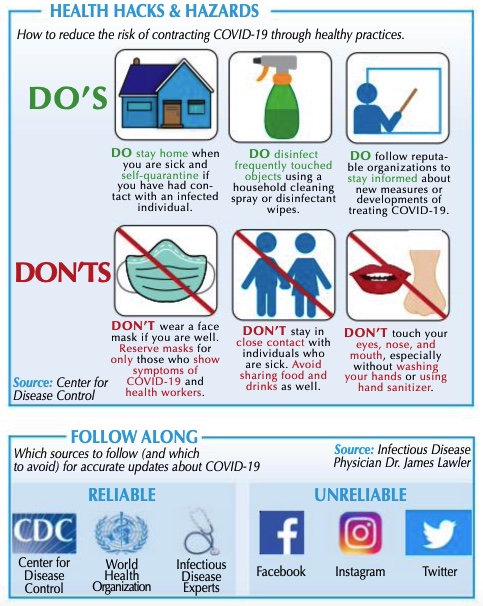 Furthermore, unlike yearly Influenza occurrences, COVID-19 is an unfamiliar strain of the Severe Acute Respiratory Syndrome (SARS) Coronavirus, making a vaccine in the near future an unlikely possibility. 
"When we had the 2009 H1N1 Influenza pandemic, we already had all the pieces in place, and it still took six months," Lawler said. "We have to do a lot of that from scratch, so most experts estimate that it will take us 12-18 months to get a vaccine into mass production." 
By then, the first wave of the epidemic will have passed, during which Lawler estimates, based on epidemiology reports, that a third of the world population will have become infected. 
In fact, "now is the time for that message to become a little more urgent in terms of 'hey, this is really looking as if it is not going to be stopped'," Lawler said.
Despite the virus's predicted widespread range, its effects are mostly minimal, and cases of severe symptoms are typically found in individuals with already-compromised immune systems. 
"It's important to remember that the majority of these cases are actually mild infections; they're a cold or flu-like illness. Especially in young people, infections appear to be very mild. The vulnerable populations are the elderly and those with underlying medical conditions," Lawler said. 
The first cases of transmitted COVID-19 in Nebraska were reported in early March, as a 36-year-old woman who had visited Great Britain in late February began exhibiting symptoms on Feb. 24. According to U.S. News and World report, her father and brother have also been diagnosed positive, raising the Nebraska virus count to three. 
Seeing as how she participated in a Feb. 29 basketball game at the Fremont YMCA, where a Special Olympics was also hosted, numerous Fremont schools and facilities have temporarily closed. 
On March 8, MPS superintendent Jim Sutfin declared the district to be in the first tier, a green level, meaning school and activity interruptions were not in effect. 
However, Sutfin notified families on March 12 that schools were canceled the next day, the Friday before Spring Break. Then, on March 16, he released notice that Governor Pete Ricketts had requested all state schools be closed for an additional two weeks. Again on March 19, Sutfin announced that schools in numerous counties, including Douglas County, were ordered to be closed for six weeks. Meanwhile, students will continue remote e-learning (as they did on March 13) until schools reopen.
Even as social distancing measures are implemented, experts agree that neither mass panic nor purchasing excessive food or materials is an appropriate strategy. Hogging supplies can actually do more harm than good, as it hinders availability for those who need help most.
"The public does not need to go out and buy masks to protect themselves," Master of Public Health student and worker for the Global Center for Health Security Rachel Rutt said. "Those who are treating infected patients are the ones who need to wear masks the most to help their sick patients."
As for strengthening the way in which society responds to this outbreak, fear and hysteria, which are sometimes perpetuated by inaccurate sources, must be eliminated. 
"A lot of this fear comes from not looking at reliable information. There is a lot of speculation out about the virus that tends to get mixed up with real information, which can make it confusing," Rutt said.
In order to effectively manage this epidemic, both public health measures and personal attitudes must be examined. On the off chance that the preparation undertaken isn't utilized, "we can all be happy and pat ourselves on the back and say we had good practice for potentially the next time," Lawler said.
It appears, then, that it is not a matter of if, but a matter of when the next large outbreak will arrive.