A Younger Crew
Freshmen qualify for All-State for the first time in history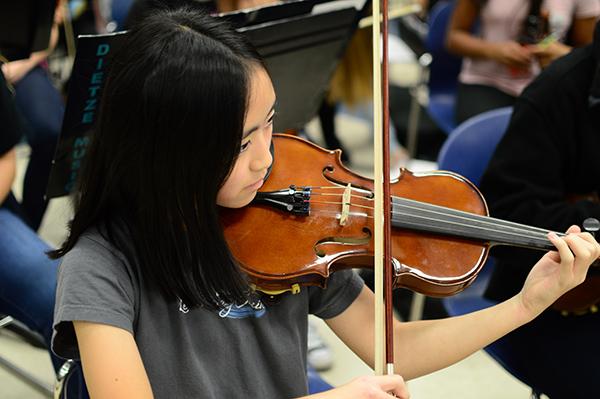 The small room fills from the sound of a single instrumentalist playing her flute. She plays the music in front of her that she has been preparing since Oct. 19. Hours upon hours have been poured into the challenging music given to her, in order to make it into the most elite group for musicians in Nebraska: All-State.
The ambitious competition known as All-State is where various high school students around Nebraska audition for a spot in four different ensembles, band, orchestra, choir, and jazz band.
But this year was different than previous auditions. Competition to get in had broadened not only by its music, but by its players. For 2016 All-State, freshmen had the opportunity for the first time to audition. Freshmen Ruike Liang and Kelley Kim qualified for band and orchestra respectively. Liang played the flute, and Kim the violin.
"It was wonderful when I heard that I had made it into All-State, and that all that time spent preparing and practicing was worth it. I was ecstatic. It feels so good when your hard work and effort are rewarded," Kim said.
Although the freshmen had put countless hours with their flutes and violins into their audition scales and etudes, they needed to be even more prepared for chair placements an audition once they arrived in Lincoln. Chair placements is where musicians are placed based on how well they played once they made it into All-State.
"I think they had to put in a lot of practice time on their music. It's high level music with professional orchestras and even higher level bands and works, so they had to bring their A-game, to see how fast they learned their music and where they should sit in the ensemble," Martinez said.
Yet, while under the pressure of chair placements, the upperclassmen from band and orchestra musicians were by their sides as they entered new territory, just as they have been supported by the upperclassmen as they prepared for auditions.
"The teachers and the upperclassmen definitely helped a lot. They have supported me through the ups and downs. All of the upperclassmen flutes are super supportive and have taught me a lot through their playing and leadership. Like the band directors say, 'The band is like a big family and family helps each other,'" Liang said.
Still, Liang and Kim were excited for the experience they'll be able to bring back from their time at All-State, along with the relationships and friendships that were created there.
"I think that I made even more friends and acquaintances by going to All-State. I think that I will get more confidence in myself. I will bring back my passion for music, memorable memories, and inspiration," Kim said.
As they are the first freshmen to go to All-State, they hope they will become an inspiration for future freshmen attempting to accomplish the same goal they did.
"I know for a fact that I might be the first freshman to get in but I won't be the last because there are so many dedicated musicians out there that might need that little extra push to get in, and I think that I might provide it," Liang said.
Still, even after this experience, both will never forget the true reason of why they play the flute, or violin, in the first place.
"I chose to play the violin because I watched other amazingly talented violinists and was amazed at how they did what they did. They were able to produce such an amazing and beautiful sound out of a relatively small instrument and create so much energy and show it by playing. I wanted to do that, to take a piece of paper with markings on it, into a story to tell others," Kim said.