A Special Friendship
Special needs students find a best friend in senior Nick Morrison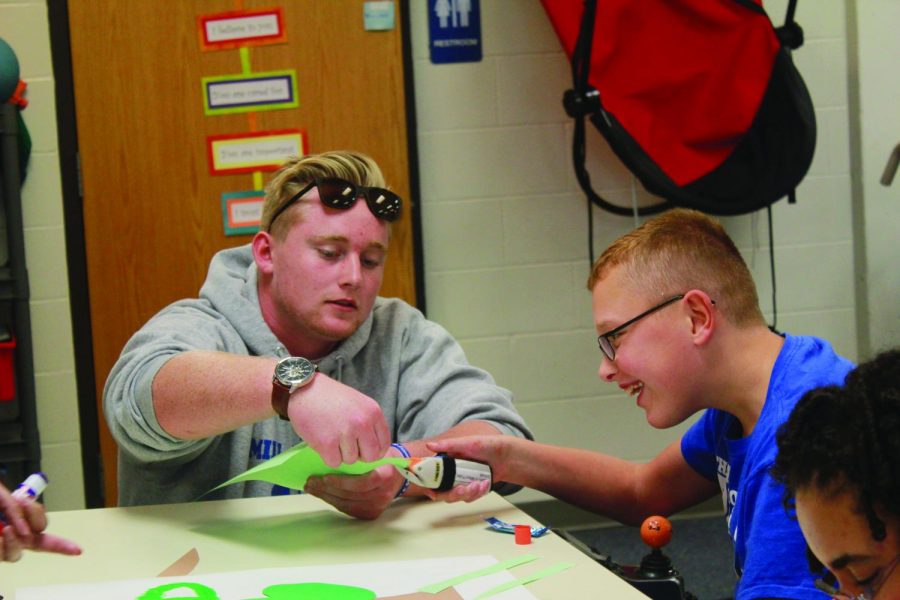 Leily Zhu, Editor-in-Chief and Front Page Editor
October 15, 2017
"Oh man! Look at those guns. You're showing off today buddy." These words emanate from room 1113 into the hallway. Inside the classroom, two glowing faces smile at one another. A boy in a gray cut off flexes proudly, showcasing his muscles. He is beaming up at his tall friend, who has an expression of genuine excitement as they playfully arm wrestle.
Whenever he has free time, senior Nick Morrison is in the special needs hall, rooms 1111-1115, with a big smile, a cheerful voice, and helping hands ready to give out high fives. He has been working with special needs students since his middle school years.
"When I was younger I had a special needs cousin [that I spent a lot of time with] and we were really good friends. That just kind of sparked my love for them and I wanted to help," Morrison said.
Morrison has had a major impact on many of the students, becoming a best friend for many of them, especially sophomore Ryan Bisignano.
"I see him in the hallways. I feel great. I just feel so excited to see him," Bisignano said.
Every time the best friends see each other, Morrison calls out in an Italian accent, "Ryan Bisignano!" In the classroom, Morrison helps with cooking, homework, and crafts. During their free-time, the friends can be found talking about life or tossing a ball around.
"It's not only seeing them be happy but it also helps me as a person, I grow. So that's just a double whammy of positiveness," Morrison said.
When Morrison enters the room, all the students want to spend time with him. However, Bisignano does not like to share his best friend.
"Nick always sort of gravitates towards Ryan, and Ryan is always trying to get his attention. He's always like 'Nick I gotta tell you something' and he doesn't want anybody else to hear because he obviously wants Nick to himself," Alternate Curriculum Program teacher Amanda Abbey said.
Most high school students join clubs and explore their interests in school in the hopes of finding their passion for what they want to do in the future. Through his time with the special needs students, Morrison has found exactly that.
"I think what I want to do is be a welder first couple years to earn a lot of money. And then I want to get a lot of land and get a summer camp for them and have farm animals to make it kind of therapeutic," Morrison said. "I just know the end goal is that camp."
He has known since he was young that he wants to do something with volunteering, but now from his experiences working with special needs students, his path is much clearer. His goal has progressed towards this camp to provide a fun and welcoming environment to kids who are just like the students that he has worked with throughout his MN career.
Even when Morrison graduates, his time at MN will not be forgotten by the 1110s hallway.
"Many of our kids go to all the football games, and to see Nick down on the field playing, it's almost like he's a star and the fact that he'll turn around and wave at them when they're in the stands, it's like if you see Brad Pitt and you're like 'Oh my God I know him!' It's the same thing with Nick like 'Oh my God there's Nick and he's my friend,'" Abbey said.
These students will never forget Morrison, and he will not forget them. He already plans to visit them every chance he gets after graduation.
Bisignano knows Morrison will be graduating this year, and he has something to tell him before he leaves: "I'm going to miss you. You're just a great friend. We do a lot of sports together. You make me feel excited and happy."