On the Hunt(er) for victory
Junior with numerous scholarship offers maintains team goals
Sallis is focusing on winning a state championship despite nationwide attention
At the top of the key he gets the ball. He looks right and crosses over to the left before doing a Euro step. He shoots the ball inside the paint, gets fouled, but the ball goes in. This is a play Hunter Sallis does on a regular basis with ease.
Hunter Sallis, a 6'4" shooting guard, has been playing basketball since he was three. Sallis' mother, Jessica Jackson,  was the one that paved the way for him to get on the court.
"I would like to think I am the one who inspired Hunter to play basketball. It's just what we do in our family," Jackson said.  
Sallis grew up having plenty of playtime but when he got to middle school he got hardly any play time. 
"This was devastating for Hunter, and us as well. [But] we felt it was important to keep him motivated and to continue to work hard despite how he was feeling," Jackson said. 
Many people would give up in this situation. However, this crucible only made Sallis work harder. He spent countless hours in the gym perfecting his craft and growing as a player. 
"I feel that Hunter being overlooked made him hungrier. He was in the gym 24/7. I remember one night he stayed in the gym until almost midnight," Jackson said. 
At this time Jackson discovered how special Sallis was.
"What is most special about Hunter is his work ethic. He works hard to be better than he was the day before," Jackson said.
 It wasn't until the start of his sophomore season that boys basketball coach Timothy Cannon really noticed Sallis' talent. 
"At the beginning of last year, it was very apparent that he had improved tremendously from his freshman year. He had never started a varsity game, but by the end of the year he was an all-state player," Cannon said.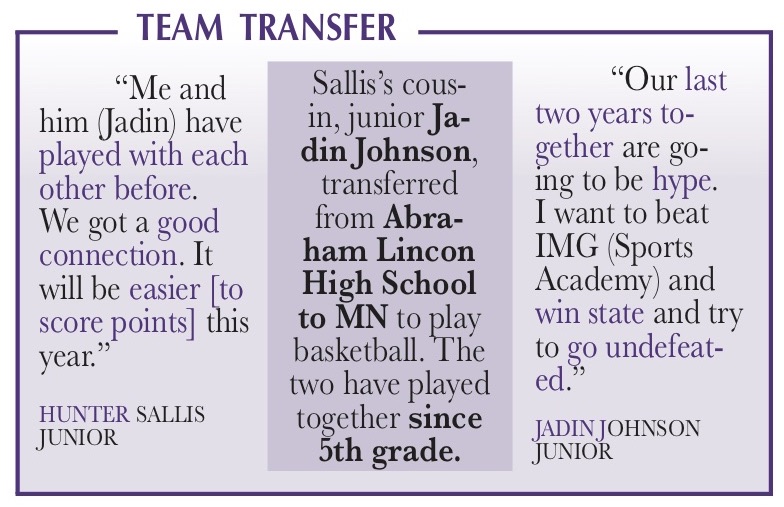 Sallis has experienced success in basketball, both on his school and club teams, throughout his whole life. However, he garnered national attention last summer during an Amature Atheltic Union (AAU)  club game.
"We played one of the teams that had one of the junior national coaches, and he [Tadd Andrews] really liked how I played so he started recruiting me," Sallis said.
Sallis cherishes the opportunity to train and play with the most elite basketball players that the nation produces.
"We still have a couple more camps and tryouts for it, but just being invited to it means a lot and was a big honor," Sallis said.
Due to his recent success, Sallis has also captured the attention of multiple colleges and coaches from around the nation. Most athletes would expect that doing workouts for colleges might be a bit stressful at times, but Sallis lets his game do all the talking. 
"Sometimes it can get overwhelming, [but] I just do the things I normally do. [I'm] not really worried about it that much," Sallis said.
Local college coaches, like Fred Hoiberg from Nebraska, have scouted Sallis at MN. Furthermore, out of state coaches, like Dana Altman [Oregon], have as well. This has led to multiple scholarship offers from colleges all over the country.
"When coach Altman was here from Oregon, I kind of knew that [Sallis] would get a scholarship," Cannon said.
 Sallis' first offer was from Ole Miss, and since then he has received offers from Nebraska, Oregon, Ohio State, and Iowa State among others.  Sallis is still fielding offers and has yet to commit.
"Right now, all the schools are equal. I haven't really narrowed anything down yet. I will probably [commit] next November," Sallis said.
Despite all the offers and off-season camps, Sallis is focused on MN basketball. He knows that expectations are high this year, particularly because four of the five starting players for MN have received offers from Division 1 colleges.
"We got a good team with a lot of talent, so I feel like the expectation is high. I know this year we'll probably be preseason ranked first.  My expectation is winning a state championship," Sallis said.
Even though Sallis and the team are gaining attention across the state and nation, coach Cannon constantly emphasizes staying humble.
"I constantly remind them that we need to 'walk the walk and not listen to all the talk,'" Cannon said.