Wading through winning waters
Star swimmer inspired by support of family and friends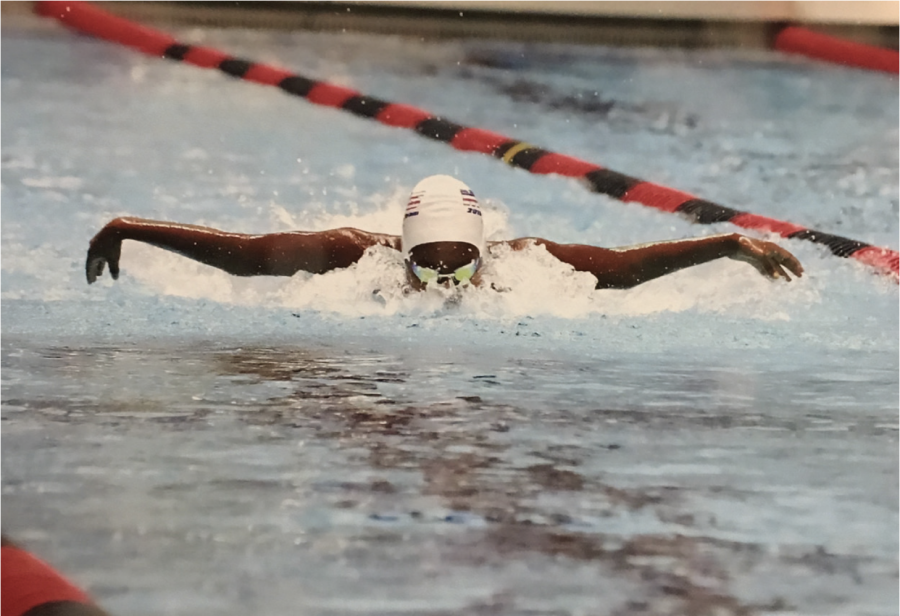 Heart pounding, sophomore swimmer Hannah Hailu jumps up and down, shaking out all the jitters before her start. A long whistle echoes off the tiles of the pool deck, summoning the swimmers to the blocks. Hailu is focused, going over her race in her head.
And when the announcer's voice rings across the pool: "Take your mark.", she is ready to compete even before the whistle.
When Hannah Hailu was 4-years old, she was doing way more than just treading water. After being in the pool for almost 12 years, Hailu has been praised for her athletic achievements.
Her high school career has been no exception. On Feb. 9, Hailu became a champion at the Omaha Metro Conference meet in her favorite event: the 100 meter butterfly.
"Since I was little, the 100 fly was my favorite event to swim. And whenever I watched my sisters compete at Metros and State, I always knew I wanted to do that," H. Hailu said.
Senior Elisabeth Hailu and Hannah's other sister, 2017 graduate Ruth Hailu, have been role models for their sister since the beginning.
"My family is so motivated to accomplish things they want to do in their life. They are so hardworking, and I've never really seen anyone else like that," H. Hailu said.
All of her teammates on the swim team have really impacted Hailu and are pushing her to be better.
"My teammates make sure that everyone is positive. When you have a good atmosphere to be in, you are more excited to work hard, and you are not focused on how much it hurts," H. Hailu said.
Other swimmers and teammates of Hailu echo her sentiments, especially fellow sophomore Mary Ulrich.
"Hannah brings so much energy and positivity to the team. When we are at a meet, you can always count on her to be up and cheering," Ulrich said.
Swim coach Andrew Cunningham, sees the obvious talent H. Hailu has.
"Her attitude and focus are great qualities that make her an exceptional swimmer. Bad swims don't bother her, and she always is ready to compete without excuses," Cunningham said.
At State on Feb. 23, H. Hailu placed 3rd in the 100 butterfly, 5th in the 100 backstroke, and 5th in her 400 freestyle relay, going to finals in all three of her events. However this star swimmer is still looking to improve as an athlete and a person.
"I tried my best to accomplish what I intended to. I could've just done some little things technique-wise in the water and some better preparation a couple weeks beforehand," H. Hailu said.
Even though her sophomore season has ended, H. Hailu is more motivated than ever looking to next season.
"To be completely honest, I feel more motivated now than I ever have been. After the meet, the support I got from my family, friends, and coaches reminded me that I still have time to improve, to work harder, and to find and try new ways in order to better myself," H. Hailu said.
Looking even further into the future, these qualities will allow this star swimmer to take her talent to the next level.
"My plan is to swim in college, hopefully at a Division 1 school if I get the chance," H. Hailu said.
Whatever path Hailu chooses, she knows she'll have a strong team of family and fellow teammates behind her, ready to cheer her on. At the end of the day, those people are what pushes her to be her best.
"They encourage me to be the best person I can be, in and out of the water," H. Hailu said.