Trail to success
Cross country uses mental discipline to stay ahead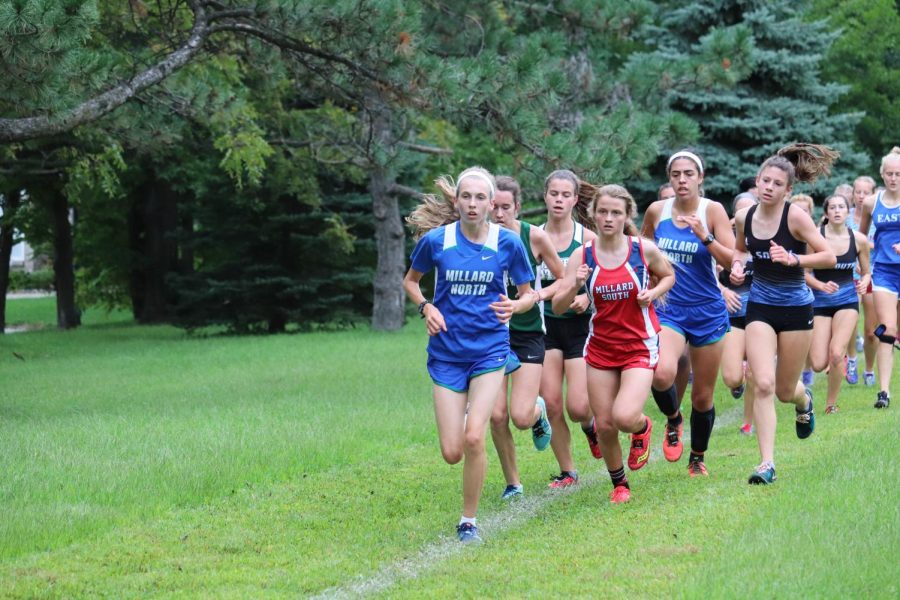 After the required mile run for gym class was over, so were many students' running careers, but for others, this was just the beginning. The mile turned into longer, more competitive distances,  and the muscle fatigue became just another factor to push through in order to reach the finish line.
The starting line for most of the runners was at their middle school when they joined the cross country team. This was the case for sophomore varsity runner Allison Louthan.
"My brother always did football in middle school, and I didn't want to do football, and I'd always been pretty good at running, so I thought 'you know what, I'll do cross country,'" Louthan said.
She has continued running cross country in high school and is in her second year of being on MN's varsity cross country team. As her times fall, her placement rises. At the Boystown Meet, on Sept. 18, Louthan placed first overall.
"It was such a weird feeling to be coming across the finish line and knowing, oh my goodness, I was the first person," Louthan said.
Even though Louthan is winning meets she, and rest of the team, are working on decreasing their times, which involves more than just physical endurance.
"We are always talking to our athletes, picking their brains, and trying to fully understand what each athlete is going through, both physically and mentally," cross country head coach Emily Janda said.
Becoming a serious competitor didn't happen by accident or just the repetition of running for Louthan, it was because of her approach to the sport.
"In addition to being a naturally-talented, she listens well, reflects on her experiences and has the desire to really understand her training," Janda said.
This whole season has been focused on getting Louthan's time under 19 minutes, but she is also working on completing the goals that her team made at the beginning of the season.
"We have [had] two main goals this season. The first one is beat Millard West, and the second is to win districts which would mean beating Millard West," Louthan said.
Despite the look of being a sport focused on the individual's performance, cross country is a sport focused on the team. In order for a team to win a meet, each player must have enough points so that the team's total score is the highest.
"From a statistical standpoint, [Louthan] is extremely reliable for scoring and beneficial at meets for team placements," senior team captain Kristiana Young said.
Louthan's great placements and team player attitude is one that not only her coach but also her teammates recognize in her.
"She is a fantastic role model to those around and a true asset to our team on so many levels," coach Janda said.
The focus for her and the rest of the team is now on the state championship that will put the talents of them under pressure, but also have the possibility to produce extraordinary results.