Jumping Through Hoops
The girls varisty basketball team keeps their eyes on State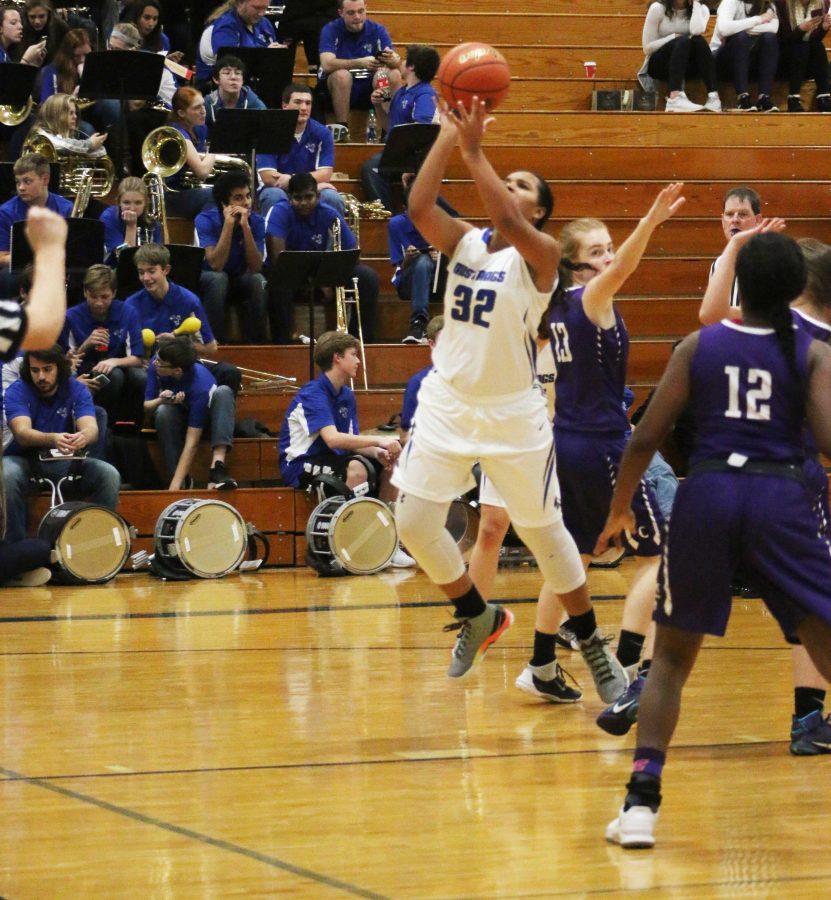 Falling short of State last year, the girls varsity basketball team and head coach Dave Diehl are determined to take State this year. From senior key players to improvements in performance in younger athletes, this team has a long way ahead of them to reach their goal.
Motivation, focus, and commitment are the driving forces behind the girls basketball team this year.
"It's a good combination to have the talent they have and the passion they have. Usually that combination leads to good things. Class A is very tough every year because it is stacked with lots of great teams. It's hard for kids to get excited for every practice and every game — however, if we keep our goal of winning State in mind, then it makes it easier," Diehl said.
The team will face tough opponents this year, including Millard West and Millard South. The preparation to defeat each team will be rigorous, but the team hopes it will pay off at the end of the season.
"They have some talented players who will play Division I basketball at each of those schools, but our plan is to prepare our tails off and execute our game plans to win," Diehl said.
Even with rival teams having strong players, the girls varsity basketball team has some powerful players of their own. They are expected to lead the team throughout the winter season.
"Taryn Benham and Ashlyn Ekdahl both had great summers of improving their games and stepping up. It's going to be their job to keep the team focused and poised this year during the good times and the bad times. They're going to play key roles for us," Diehl said.
As the key players, Benham and Ekdahl's goal is to keep the team moving forward no matter what. This not only means with the performance of the team, but also the attitude, teamwork, and team dynamic throughout the season.
"We all work together really well and have a really strong bond with one another. So right now we're trying to work on how to be together on the court as well as off the court,and just relay that relationship outside of the game into the game so that we can get to state," Benham said.
Along with Diehl determined to take State, so are the players. And the close relationship of all the players helps their performance on the court as well.
"We work really well as a team, we are all really good friends. We have team bonding activities outside of practice that make our bonds even stronger and I think that that helps how well we play with each other. Our close relationship as a team helps us work together better at practice and helps us play better at games," junior Kennedy McCreery said.
The dedication throughout the team is unquestionable as is the driving force when preparing to take State at the end of the season.
"I know I will never need to question their effort or motivation in a game. They're good kids who have winning as their goal," Diehl said.