Home Is Where The Hits Are
Lessons learned on the softball field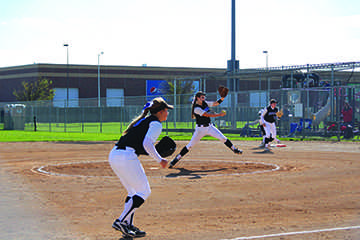 While the mention of softball brings with it the thoughts of long, dusty practices, tough physical work, and cheering parents, there is an often unrecognized side to the sport, hidden beneath the surface of the game. Through the experience of a team working hard towards a common goal, life skills are learned and valuable lessons are taught, which last longer than any found in a classroom.
MN's varsity softball team is no different. After a season of many exciting wins, and some disappointing losses, finishing third in the state and with a record of 24-10, the girls have found that there is so much more to the sport than spectators recognize. One of the most rewarding is the close friendships and bonds formed between team members.
"Throughout the years we have only grown closer and closer," senior Emma Hoffart said, "It's great seeing all the friendships that have developed over the years and that definitely helps us out on the softball field."
The team has found that the closer they are as friends, the better they can play together on the field. It's the unity and trust in each other that makes a huge difference.
"Softball has taught me that being apart of a team is more than a group of people working together to the final goal. Being a part of a team is of course winning, but also the unforgettable memories and friendships that come along with it," senior Ashley Hernandez said.
But friendships do not remain the only gift gained from playing, understanding the role each person plays and how they need to fulfill it is essential—a skill that carries into any area of life. This is seen particularly well in those who are leading others.
"I think the biggest trait that has grown in me is leadership. As a pitcher, it is almost a given that I have some form of leadership, but from last season to this season I see a huge difference in myself," sophomore Kate Rehberg said, "Last year, as a freshman, I felt that I hadn't earned a sense of leadership yet, but now as a sophomore I feel that more people expect it out of me."
Although oftentimes it is all fun and games, literally, the truth of the matter is that losses come, and it is how one reacts to those tough spots that defines how good they really are.
"I think the best way to improve your game is to learn from the mistakes made in those tough losses. It's really easy to get down after something like that but it's the way we come back from those losses that separate the good softball players from the great ones," Hoffart said.
As teammates, perseverance has to be second nature and determination third. A loss can define the rest of the season as a failure, or it can be a launching point for success.
"My biggest take away is that every play is a new play. You have to have a short memory during softball because every play is important. Also, any team can beat anyone on any day so it is important that you are always focused on the present," senior Laura Whorley said.
It's obvious the skills that players learn, like how to work hard and what plays it takes to win, but the unrecognized ones are those that hold the most value. Whether it be in high school or any number of steps down the road of life, what is learned together on a softball field truly lasts a lifetime.
"The greatest take away I have is that sports are a roller coaster, there's ups and downs, but the ride is unforgettable," Hernandez said. "Of course there's been some tough losses, but there's also been incredible wins and goals none of us ever thought we could accomplish. And those are the things that will stick with you forever."