Diving Right In
A small team making a big splash at competitions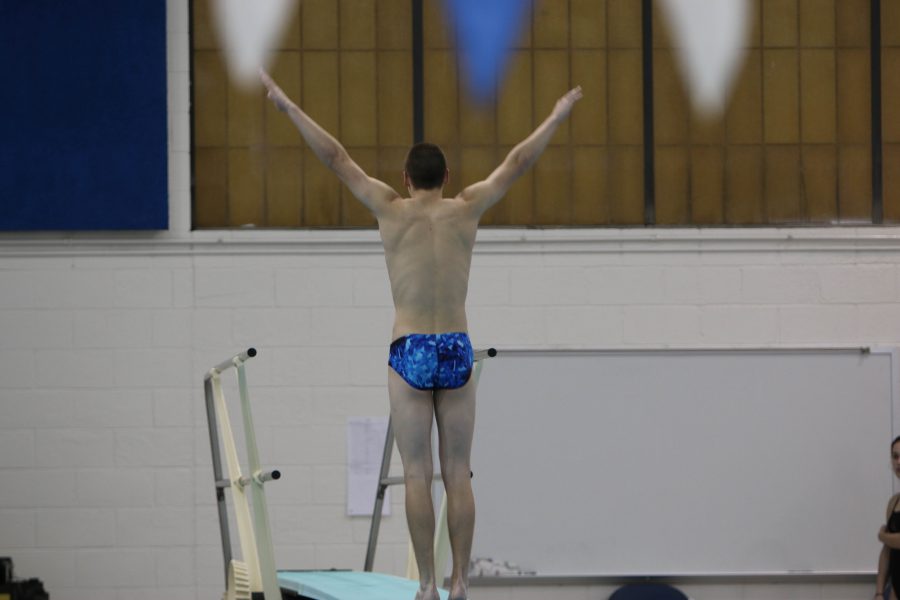 Pruned skin, chlorine filled eyes, swim caps, and splashing water are all thoughts that might flood one's mind at the mention of diving. Yet, under the swim caps and behind those reddened eyes lies heaps of courage and passion for the sport. These traits can be found in any member.
As a whole, the dive team consists of six total members. Out of those six, four have chosen to compete in diving competitions. Sophomore Megan Paustian is one of those four.
"My absolute favorite part about diving is leaving the board and twisting or flipping through the air because it's the closest feeling to flying I've ever experienced," Paustian said.
At the first dive meet of the season, junior Reece Holman qualified for state. In order to qualify for state, one needs to receive at least 300 points. Holman scored 310 against Millard South.
"As they were calling out places me and my coach were expecting 4th or 5th but after they called out third and it wasn't my name he looked at my with the biggest smile and got super excited and it was one of the most memorable moments of my diving this season," Holman said.
Aside from those who compete, others have joined the team for reasons like the workout that is offered, the people on the team, or simply just to try something new. That is why freshman Violet Rowell became a member of the team. This year is Rowell's first time diving.
"Anyone can get up on the board and do a dive, but it takes a lot of hard work and dedication to perfect it," Rowell said.
In the midst of the season, the dive team can be found practicing in the pool every day. Their practices last for two hours, but members will usually stay even longer to master their moves.
"We are soaking up every minute of practice we can get," Holman said.
A typical diving competition begins with a half hour of warm up. After that, the diver will either begin performing their dives, shadowing their dives on deck, or sticking with their teammates while keeping warm in between dives.
"Diving is a sport that requires a lot of mental focusing so meets are really calm and quiet," Paustian said.
Along with the passion and courage Paustian contains, she sometimes experiences some apprehensions.
"Diving is very different from other sports because you are the only person on that board. In those few seconds that you are diving, everybody is watching you. So it is critical to learn how to manage your nerves and keep your head on straight," Paustian said.
Overall, the dive team has made quite a splash during competitions. Diving is a sport that requires copious amount of bravery, determination and passion. With these qualities, dive team members have had a successful season so far with many more successes to come.