Causing A Racquet
Hub and Bub take the court as #2 doubles partners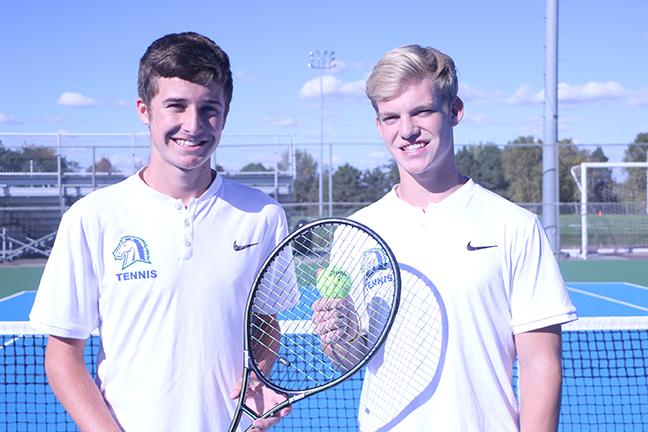 One of the first rules you learn in tennis is that love means nothing. It's equivalent to a score of zero. The boys varsity tennis team has had little love in their scores this season, but the love on court between teammates has soared to an all-time high.
With a team name like Hub and Bub, the duo that forms the team must be something special. Two doubles partners senior Grant Hubbard and sophomore Isaac Sivinski may not be related by blood, but they just might be long-lost twins.
Both players were born with tennis in their blood. Hubbard and Sivinski's fathers are both tennis professionals who coach and own their own tennis businesses. The partners have played on varsity since their freshman year. Both Hubbard and Sivinski also each have an older sister, both with the same name, who were captains of the MN dance team during their respective senior years—Abby Hubbard and Abbie Sivinski.
Even more remarkable, both boys have uncles who are firemen and both strive to become paramedic firemen. This partnership of Hub and Bub turned out to be the joining of twins that look nothing alike.
Individually, Hubbard and Sivinski are referred to on a first-name basis. But as soon as they set foot on court, they become "Hub and Bub." Hub is self-explanatory; it comes from Hubbard's last name. Bub is derived from Sivinski's childhood nickname "Bubby" which his mom, Angie Sivinski, yells from the stands. The name stuck and they officially became Hub and Bub.
"Grant has been kind about taking Isaac under his wing as an underclassman. It's perfect. They're Hub and Bub," Angie Sivinski said.
Hubbard, former two doubles state champion, helps Sivinski with doubles' strategies.
"They never get mad at each other. I've never seen the other put the other one down. They're both quiet and both very encouraging and they never lose their temper," Angie Sivinski said.
Staying focused is an important part of the game, but there's still room for inside jokes.
"High high-fives tire me out, so I told Isaac to do only low high-fives. It's a pretty big operation," Hubbard said.
Hubbard and Sivinski were partnered based on not only skill level, but their teamwork. It was chance they ended up being non-related twins.
"Isaac and Grant's games combined go well together. They have come a long way since their first match. They are a great team together and are for sure a very strong team," varsity tennis coach Josh Raymond said.
Shouting and cheering for Hub and Bub can be heard from the sidelines from vocal MN tennis supporters at each duel and invite. At State, it's no different, except the volume of the cheering is at least tripled. The two doubles team placed second at Metros and fifth at State.
"Overall it was a very fun and exciting season, and I am very thankful for having a great partner that was funny and a good role model," Sivinski said.