'Stranger Things' Happening in the White House
Senior flies out to DC to meet Obama, the Stranger Things cast and creators, Leonardo Dicaprio, the Lumineers, and others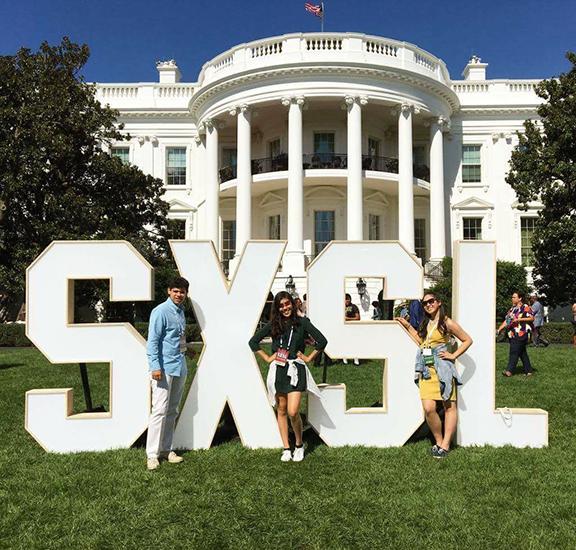 Senior Jessie Chen flew out to the White House in Washington, DC on October 1st after receiving an honorable mention in the 3rd Annual White House Film Festival.
Chen spent the weekend exploring panels and booths while meeting national experts and celebrities in the film, art, and music industries. One of her most memorable moments was interacting with The President of the United States.
"Taking a picture with Obama was a really exciting experience. There was a lot of build up before it. The doors were closed and they made us wait a long time, but when the President finally came in, everyone screamed and freaked out. It was amazing. The very first thing he did was fist bump the tiniest kid in the room," Chen said.
Along with the POTUS, Chen also met numerous other celebrities who attended the festival, including:
The Lumineers

Leonardo Dicaprio

Millie Bobby Brown – 'Eleven' from Stranger Things

Gates Matazzaro – 'Dustin' from Stranger Things

The Duffer Brothers (Matt and Ross) – Creators of Stranger Things

Ty Burell – 'Phil Dunphy' from Modern Family

Caleb McLaughlin – Simba from the Broadway Production of The Lion King
Chen's award-winning short film , "Wishing For A Different Present," follows a father who struggles to get home to celebrate his son's birthday and a son who wishes for a better world for his father to live in. She directed the short film during the summer working with UNC Chapel Hill freshmen Stephanie Dong and senior Alan Israel Ruiz Cantu.
"Watching films from other young filmmakers and hearing each of their stories made me so hopeful and ready for what the future has in store for us. This entire experience was so surreal and felt like a dream. I will certainly remember every single detail of this adventure," Chen said.
---

Check out Chen's award-winning short film here.