Super Bowl Showdown
Students trek to Miami, witness historic Super Bowl LIV
The roar of 103,219 fans from across the nation became deafening as the Kansas City Chiefs and the San Francisco 49ers made their way onto the field of the  Hard Rock Stadium in Miami Gardens, Florida. Among the congregation of die-hard sports aficionados were two MN students—senior Evan Jolley and freshman Ty Zimmerman. 
Both students were rooting for the Chiefs and had the opportunity to witness their first Super Bowl in 50 years on Feb. 2.  Zimmerman recalls his excitement when receiving tickets for this historic game.
"My step-dad had tickets from a past game that he entered into a lottery to win Super Bowl tickets and his tickets were drawn. I was sitting at home watching the AFC game, and after the Chiefs won, my step-dad told me he got the tickets; I was pretty excited," Zimmerman said. 
That moment changed Zimmerman's life and allowed him to go to the game that some people could only dream of going to. 
Jolley had been to many Chief's games, but none felt the same as this one. 
"You could feel the weight of the situation. Usually when you go to a regular-season football game, if you win that's really good for your record, but if you lose it's whatever. But this was for the championship, and you could really feel that in the air," Jolley said. "It made me super nervous. Throughout the whole game I was on edge."
Fans arrived at the game about four hours early to take advantage of all that the pre-game had to offer.
"Usually before a regular football game we would go in, tailgate, drink sodas and eat stuff, but here we went to this place called the Champions Club which was included in our tickets. We had a bunch of all-inclusive food that we got to eat, and there was a Cirque du Soleil performance. It was actually kind of crazy. It was all part of the experience," Jolley said.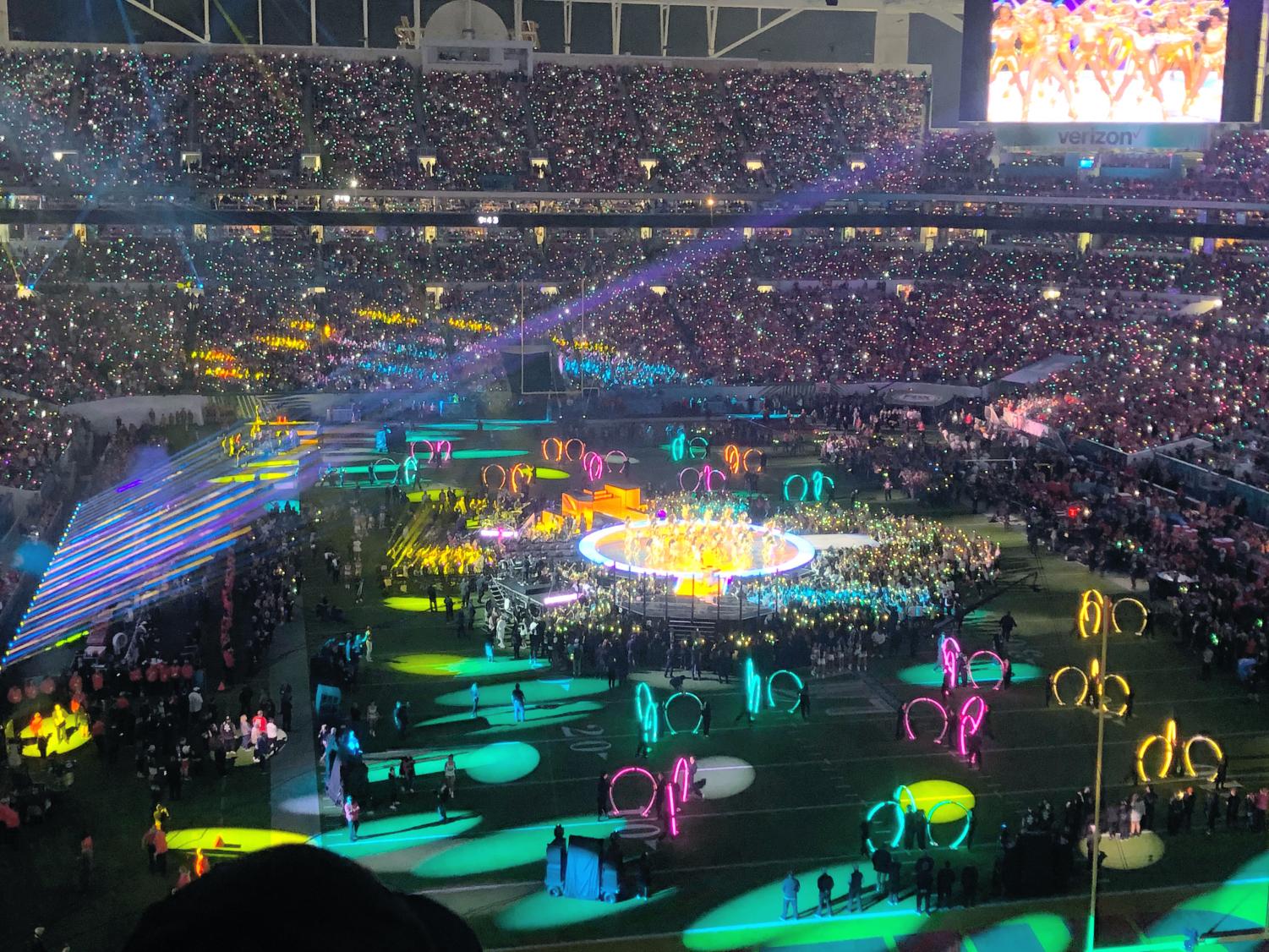 Zimmerman also shared a similar pre-game experience and saw some familiar faces too. 
"There were singers performing and a lot of previous NFL players like Rob Gronkowski and Jerry Rice were there which was really cool to see," Zimmerman said. 
During the three and-a-half hour long game the stakes were high and fans portrayed that well. 
"Most of the time fans were standing when their team was on defense and the fans would scream 'DEFENSE' and there was a cool chant that went through the stadium," Zimmerman said.
When Damien Williams scored the winning touchdown, all of the weight was lifted off of Chiefs fans' shoulders. 
"After the Chiefs scored their second touchdown everyone was partying basically and we had gotten up, then when we had scored our very last touchdown it was pandemonium and all the Chiefs fans were going crazy," Jolley said. 
At that moment everyone knew that the Kansas City Chiefs had won their first Super Bowl in 50 years. 
"All of the players ran onto the field after they won, fireworks were going off, confetti was all over the field and getting into the stands. The other teams' people started to leave but the Chiefs fans stayed to watch the ceremony and to see who won the MVP," Zimmerman said.
The MVP recipient this year was Patrick Mahomes and most fans agree that he deserved this prestigious trophy. 
"Patrick Mahomes winning MVP was understandable. If someone was going to win MVP it was going to be Patrick Mahomes in the second half because he came out firing and it was cool to see," Jolley said. 
This experience will be a great memory for these two students for the rest of their lives.
"Honestly I don't think it has hit me as much as it's going to that I just went to the Super Bowl. I am super grateful for the opportunity and it is definitely going to be one of those moments that I will look back on and tell my kids about which is really cool," Jolley said.