Safety with school spirit
Dance team works with Mustang Booster Club to raise money and promote school pride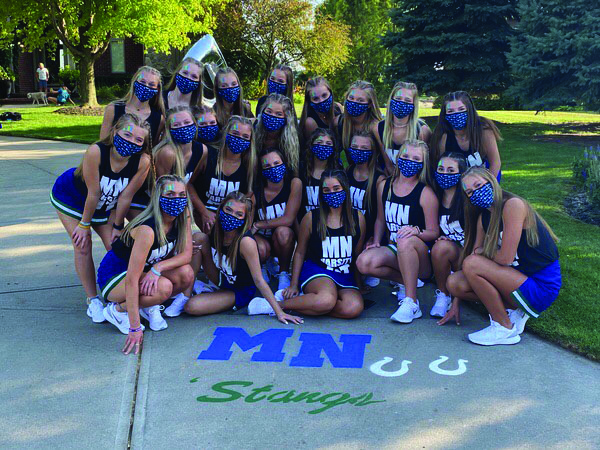 Green. Blue. White. Repeat. As the vivid paint shoots out of their spray cans, the dance team traces out the Millard North logo onto the driveways of students from all grades.
The dance team is using this unique year to raise money for their national competition in January through fundraising. They are currently running two fundraisers- one for selling masks and another for spray painting driveways.
The dancers  are currently raising money by selling custom masks for $15 with the MN logo, which can be ordered by contacting dancers or their parents. Jori Thielen, the mother of junior dancer Grace Powers, came up with the idea along with other dancers' parents as a way to earn money for the team's trip to nationals as well as promote school pride.
"We chose this particular fundraiser because we felt it would help the students show school spirit, keep our students safe, while helping us meet our financial goals", Thielen said. 
This has not been the first time the team stepped up to do such an event. The dancers  and their parents enjoy getting involved with the community and taking opportunities to raise money.
"Since COVID-19 has made it hard for us to do some of our regular fundraisers that help us a lot, we do all kinds of fundraising", senior dancer Anastin Odermatt said. "We go to Tanners, sell calendar ads, spray paint driveways with Millard North logos, the masks, selling car wash tickets, and even hold up signs outside for a free car wash,"Odermatt said.
The dancers' parents are usually the first ones to come up with ideas for their fundraisers. Through them, the team is able to collect adequate funds to send them to Nationals each year.
"All the parents contribute to all fundraising.  We have found it works best when upperclassmen parents organize fundraisers as we have more experience with what the team needs for a successful year.  This year I volunteered to spearhead fundraising," Thielen said.
The dancers also have big roles in the fundraiser. While the parents take action to bring their fundraisers into effect, the dancers use various social media platforms to advertise the sale of masks. 
"As dancers, we are the ones advertising, and directing buyers on how to order or pay for one," freshman dancer Leila Klem said. "The main goals of this fundraiser is to provide a mask to people who don't have one already or are looking for a new one."
While it is important for the dance team to earn enough money to go to Nationals, they keep in mind that the masks they are selling have a deeper meaning apart from keeping kids safe.
"The cost of the masks isn't just for extra money," sophomore dancer Gracie Brueckner says. "We are trying to reach our end goal we have worked hard for, not just trying to make a quick buck."
Both parents and dancers are thrilled with the response from the fundraiser so far.
"We placed our original order of masks and sold those within the first ten days. We have placed a second order as we found the demand to be quite high," Thielen says. "At this point we will sell masks as long as there is a need for them."
The MNDT mask fundraiser not only positively impacted the community, but also has had an effect on the dancers themselves. 
"Raising money makes competitions seem more attainable", junior dancer Hailey Gregg says. "We feel proud to raise money as a team."
However, the masks are not the only major fundraiser the team is partaking in this year. Recently, they have also charged $35 to spray paint the school logo onto buyers' driveways.
"We are trying to show our school spirit by stamping as many driveways as we can. In times of COVID-19, we need to show the kids we are behind them, no matter what," Jori Thielen says. "Things may not look the same, but family and friends want to support our athletes."
The team and their families took great care in choosing their fundraisers overall for this year. They wanted to choose the safest options possible while helping students show school spirit during this difficult time.
"Our biggest consideration was social distancing," Thielen says. "We believe the masks, the driveway stamping, and the car washes accomplish our goal. We want to do our part to keep everyone safe while achieving our goal for raising money."
Although the dance team knows this year will be like no other, they don't focus on its negative impacts anymore. Instead, they see it as an opportunity to not only earn money, but to also instill positivity in students and let them know everyone is in this together.