Peace, Love, Mandala
MN wins State Marching Band title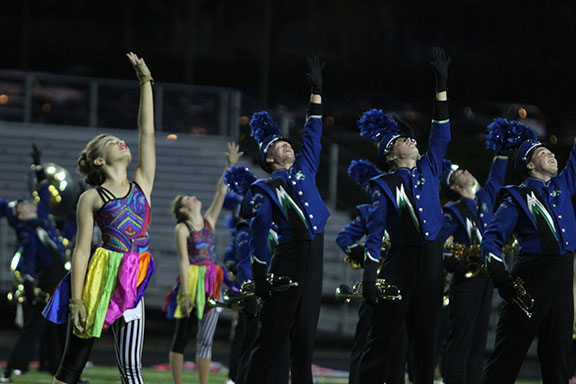 On the evening of October 22nd, an eerie hush descended upon Buell Stadium. Breaths were held, hands were clenched, and hearts were racing as MN was announced winner of the 2016 State Marching Band Competition.
After months of hard work, MN took home the trophies for 1st place, Best Music, and Best General Effect for their program, Mandala.
Marching Band began rehearsals for their season back in June, and they've accumulated roughly 300 hours of rehearsal time since. These hours of work all came to pay off at the annual NSBA State Marching Band Competition last Saturday.
"This was the first time we've ever won state, and only the second time we've ever won first place, so it meant a lot to all of us," Drum Major Courtney Tompkins said.
Mandala is an eight-minute long program with music score composed by Kevin Shah and battery done by Mike Jackson. The show is performed with the efforts of over 175 band students in all grades.
The band rehearsed for the season through late nights and early mornings, all leading up to the state competition. For all students involved, the ending of Mandala could not have been more bittersweet.
"There will never be enough words to fully enrapture the sense of pride and achievement," Tompkins said. "Reaching your highest potential and being recognized for all your hard work is truly rewarding."