Just goosing around
The inside scoop about the goose problem at MN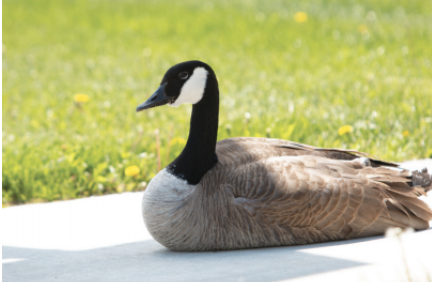 It's a normal morning as you drive through the school parking lot about to start the day, but wait, there seems to be a hold up.  Is it a car crash? Is part of the road blocked? Nope, it's just ongoing traffic of goose crossing, typical. Apart from their obnoxious tendencies to take their sweet time crossing the school parking lot, this gaggle of geese often make students giggle and continuously entertain them with their shenanigans.
"They're quite cute and it's entertaining to see what they're up to,"  senior Lexington Mandachi said.
Where did the geese come from though? It seems as if they have suddenly just appeared. The geese have actually been around MN for awhile now and since the weather has become warmer the geese have traveled farther north, more specifically, Millard North, to make a new home.
"I assume that as our and the Dakotas weather has been flexing back and forth between warm and cold the geese have slowed their northward expansion maybe causing a higher than normal population within the metro area,"  Zoology teacher Hans Keim said. "Our proximity to waterways like Boys Town, Zorinsky, and the numerous flood ponds, and the nice mowed grass fields on our campus, it makes this a fairly good habitat for these geese.
Even though the geese have been entertaining to watch and especially fascinating with a nesting goose, geese can be aggressive and defensive if you get too close.
"The impact on school grounds has been quite negative with lots of goose poop to clean up off the sidewalks.  The geese are mean and dirty," Principal Brian Begley said. "In order to prevent future goose nests, we plan to have some deterrents in place."
Despite the mess that these geese have made around school grounds, their removal is out of the question right now as certain Nebraska authorities prohibit any such actions.
"I was recently informed by the Nebraska Game and Parks Commission that once the goose started nesting in early April, she is not to be disturbed according to the Federal Waterfowl Conservation Act.  Essentially, they are protected," Begley said. "The good news is that once the baby geese hatch, they seek out ponds and lakes and other sources of water, so hopefully they should be out of our area soon."
As for the main attraction herself, a female goose can be seen right outside the main entrance with her nest and eggs.  She is spotted most days sitting on her eggs to keep them warm. Students however are advised to stay away for mother geese are quite protective.
"Large Waterfowl like geese and swans are excellent parents and will protect their nests very aggressively," Keim said.  "Usually both parents will stay near the nest while there are eggs to defend the next generation. It would be wise to stay away from the nest, geese do bite and will use their wings to beat potential threats away."
You can still enjoy and appreciate these silly little creatures, just make sure it's at a safe distance.