In the Eye of the Hurricane
MN students' personal connections to Hurricane Maria
Hang on for a minute...we're trying to find some more stories you might like.
"I could've been there. What if I was there? What would've happened?"
Hurricane Maria hit the island of Puerto Rico Sept. 20, leaving a path of destruction across the island over the course of a couple days. Many residents on the island have relatives living in the United States, called Stateside Puerto Ricans. Senior Krystal Febus, who was born and raised in Puerto Rico, moved to the United States with her parents and brother when she was 12, but she still has much of her family living on the island.
"They had a concrete house, so their house is perfectly fine. Some people have returned to work like my aunt who works at a hospital. Unfortunately my uncle got fired from his job because the hotel he worked at was destroyed," senior Krystal Febus said.
Febus' family still living on the island were located in a part of Puerto Rico where the eye of the hurricane passed through entirely, but were luckily not affected entirely by the hurricane as were in poorer neighborhoods. Sophomore Iesele Talavera, whose family his dad's side still live on the island, located in Ponce and San Juan, has recently come into contact with his family on the island, mostly his uncle.
"My grandfather has a generator, but it runs on gas and they have no more gas. My uncle has a generator that doesn't need gas, so that's how they've been in contact with us," Talavera said.
During the storm, communication between Puerto Rico and the U.S. became almost non-existent as the storm cut power across the island. Although it has increased following the storm's passing, for senior Julian Cruz, whose entire family on his dad's side lives on the island in Mayagüez, the limited communication between relatives was incredibly distressing.
"The first week and a half we had no contact with them whatsoever, and those were some long nights. I just didn't know if my family was alive or not," Cruz said.
Aside from power, resources such as food, water, and gas have become sparse across the island. Some lines for gas reach hours long, and supermarkets and gas stations have begun to ration out supplies to customers. The U.S. is currently shipping resources to the island, but for many, help can't come soon enough.
" My dad's brother told me they had to wait seven hours to get gas. They can't go to the bank because the power's down and you need to get cash to pay for everything and they don't have any cash," Talavera said.
Following the destructive path of Hurricane Maria across the island, Puerto Rico is in desperate need of help. Groups and organizations currently accepting donations to help Puerto Rico include UNICEF, United for Puerto Rico, and the One American Appeal. Even though it's been almost a month since Hurricane Maria hit the island, there's still 95% of the island without power and many others without proper housing.
"Once we have the ability to get in contact with them, we're going to have some of them come live with us for a while during reparations. It could be any time from a couple months to years," Cruz said.
Hurricane Maria has drastically changed life for many Puerto Ricans, for months, possibly years, to come.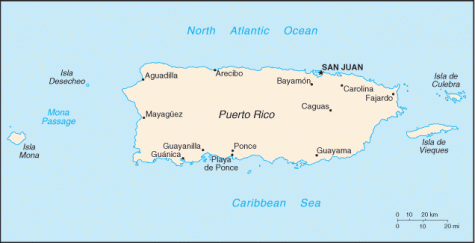 In recent years, Puerto Rico has seen a drastic drop in its economy, and has seen crime and poverty on the rise. In the wake of the storm, however, Febus holds out hope that the island will come together in this time of need.
"We are really close in Puerto Rico in general, but lately it's been a bad environment. Maybe this was a natural disaster that will change things," Febus said.