Highlighting Help Hotline
Switch to a new hotline brings various benefits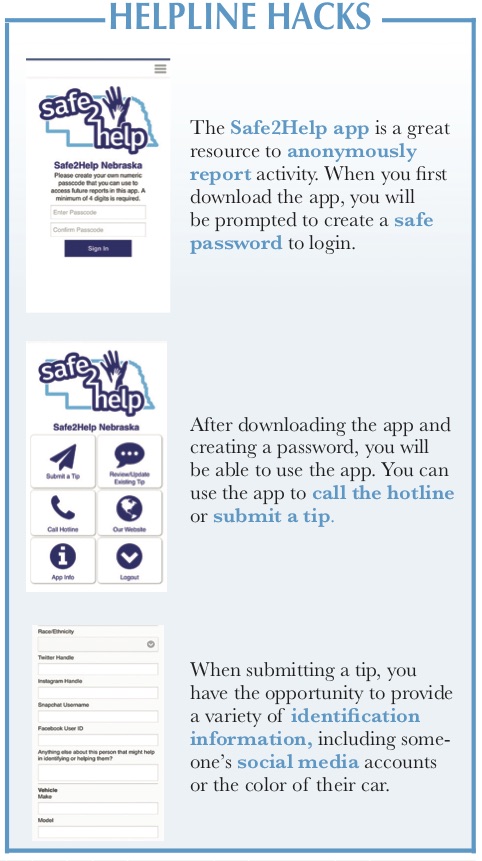 The suicide awareness seminar is an event that happens every year. People walk into their MT and gain important knowledge about mental illnesses and the effect that they can have on people. At the end, students receive a little card on it is the school's hotline for reporting alarming activities. This year, however, it will be joined by another card: The Safe2Help card.
Safe2Help is an evolved version of the MPS Hotline. It was officially implemented in January, and a grant of $422,000 by the Omaha Police Foundation funded this alteration. The hotline is run mainly by Boys Town but came to fruition from a partnership with local law enforcement agencies, including the Omaha Police Department and the Douglas County Sheriff's office, as well as several school administrations, including MN. They feel strongly that in order to ensure the safety of all students, the availability of this resource is important. 
"This change will mean a faster, more direct service is provided focusing on the safety of all students. Our students will know and feel that our administration team cares about each of them," Principal Brian Begley said. 
The hotline has entered the modern age through the creation of an app. Safe2Help provides more services than the original hotline did. It allows users to report many different issues of varying importance. This hotline is more than a place for reporting people with suicidal tendencies; it's a place where MPS students can anonymously report threats to the safety or well-being of fellow students. 
The process is entirely confidential and provides a means for police to contact individuals without revealing who sent the tip. It also provides a way to provide crucial information and details that may be lifesaving. Most likely, authority figures would use a social media account, or some type of information that would be helpful in identification. 
"Safety is our number one priority, so the existence of an anonymous reporting system that can allow the community to report concerns is a definite benefit to student safety by allowing us to be proactive versus reactive," Director of Student Services Bill Jelkin said.
Safe2Help is an important resource to run in conjunction with the original hotline. They both provide important services and are impacting schools in a positive way. It's too early to tell if the Safe2Help hotline has increased the number of people using one of the school's hotlines, but the new app is more user friendly. 
"I foresee it having a positive impact because students will hopefully have quick and easy access to a resource that gives us the opportunity to help people. This hotline's convenience and the detail are able to provide the opportunity for a quick followup," Dean of Students Amber Ripa said.
The hotline is an important resource for the school. The confidential aspect as well as the convenience of the app has proved to slightly increase the number of calls.  Altogether, this app is a valuable addition to the school, and will help many students in the future.