Competitive Drama
The one-act, meant for more than one, launches this year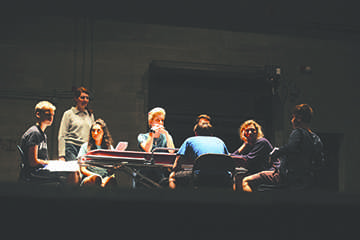 After sports practices are over and the study center has closed, the stage lights remain lit. Here, students are reciting their lines, building the sets, and putting together a theatrical production.
While MN's theater program is known for the various productions that are showcased each year, English teacher Matthew Eledge has introduced a competitive aspect of theater that has not been available to students in recent years: the one-act.
"I have always had an interest in theater and the competitive aspect is what further drew me in. [The one-act] provides new opportunities for kids, gets students involved, becomes another outlet for students to express themselves, and reaches out to another audience because it takes an art form and turns it into a competitive activity where students have to work collaboratively," Eledge said.
Like sports, speech, journalism, and various other activities, the one-act is run by the Nebraska State Activities Association, NSAA. This activity requires an act from a play production that lasts less than 30 minutes to be performed on stage. However, unlike other productions, the one-act is competitive in nature and is performed before a panel of three judges.
"Knowing that we will be competing with this really drives us to do our best and practice more. It sort of gives the whole thing purpose. Everyone is wanting to win, and it drives us all to do our best," senior Karsten Oglesby said.
For the first year of this activity, MN will be putting on a production of "Beetlejuice," a dark comedy from 1988.
"I've loved 'Beetlejuice' since I was a little kid, so being given the opportunity to be a part of the first group of people to recreate it on stage was a no-brainer for me," senior Lexi Chizek said.
Preparation for the production began early in the year and students have been hard at work.
"The atmosphere of rehearsal is really awesome. Everyone is laughing and having fun, but also really trying to make this work. When you are around so many awesome people, trying so hard to create this amazing thing, the atmosphere is almost electric," Oglesby said.
Despite the many rehearsals and time spent on the stage, the end goal of the one-act production is never forgotten.
"My goal for this year is to get a really big cast where all sorts of individuals, especially those who wouldn't consider themselves as 'theater kids' or actors, are involved. I hope to be able to create a culture at MN in order to interest more students who aren't necessarily involved in theater, but in other activities as well," Eledge said.
This goal is already starting to be achieved, as this activity has been able to get students of different backgrounds and interests involved, bringing different experience levels and ideas to the table.
"I like how the one-act has unified two different parts of MN, the forensics and theater communities. It's great to be able to get all different kinds of people with different interests together to work towards one common goal of making a production that we can all be proud of," Chizek said.
The cooperation between the students has been strong and the production has started to take shape.
"Other than spending a large amount of time around amazing people, seeing everything coming together and how great everything looks gives me an amazing feeling," Oglesby said.
However, it is important to note that this would not be possible without the efforts of the directors as well.
"The entire cast and crew are very grateful for the directors in charge of the production. They have so much love for everyone involved and you can tell how much they care about not only the people, but the production as well," Chizek said.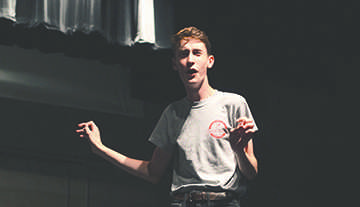 Contributed by Brittany Cortez