Tetris: playing music not games
Orchestra students perform around Omaha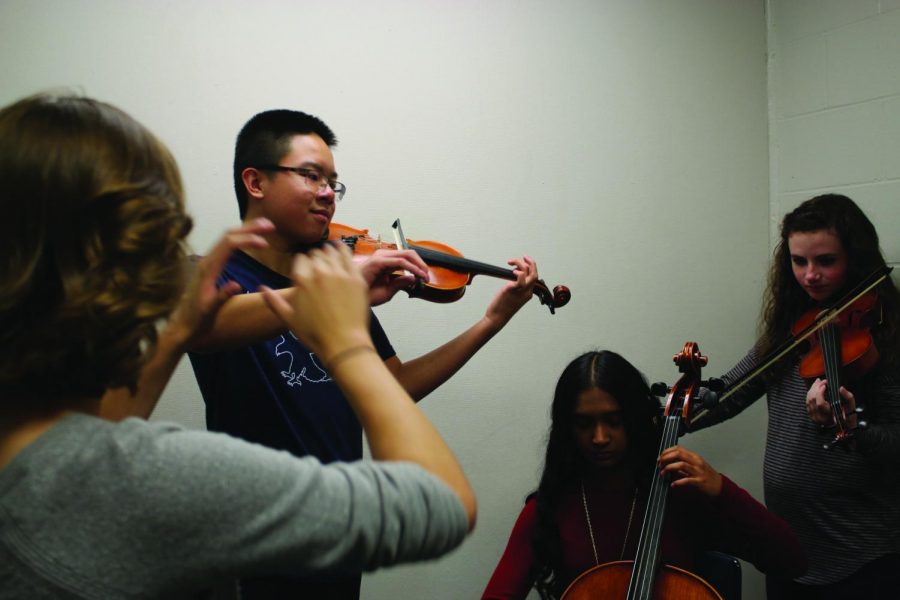 The sound of a warm, rich melody echoes through the room, welcoming the guests as others mingle with each other at the Joslyn Art Museum. The music alternating between the works of Mozart, Sia, and Walk the Moon, and some original pieces. The silent language of nods, breaths, and eye contact is used to communicate while they perform, and a communal nod ends the piece.
Tetris, a string quartet made up of MN students, often spends time playing at the Joslyn Art Museum for many of the galas or new exhibition openings, as well as parties and weddings around Omaha.
One of the members, junior Gracie Fagan, is the arranger and songwriter for the quartet. She started arranging in sixth grade and  one year later started writing her own pieces.
"Writing is kind of like my diary. Whatever emotions I feel just come out in the music," Fagan said.
All the music played by Tetris is either arranged or written by them. Fagan also has the help of one of the violinists, junior Matthew Halbur, to arrange some of the music.
"[Arranging] is a very complicated state and I don't know a lot about music theory so I mostly arrange it by ear,"  Halbur said.
The writing process never ends for Tetris. Their music continues to evolve as they get new ideas. They are all a part of the process of arranging their music.
"It's a lot of interpretation because we all work together. It's a very cohesive process," junior cellist Chella Raghavan said.
Most of their pieces tend to evolve with time because they mature and learn new techniques that they bring to the group. They even have changed a piece's genre.
"We have two styles of 'Crystallized.' One is the really fast and pop version. The other way we play it is slower, more emotional," junior violinist Ethan Chen said.
Although none of the members of Tetris plan on being professional instrumentalists when they grow up they still plan on playing their instruments for as long as possible.
"I see us playing together as long as we are in the same vicinity as each other," Fagan said.
All of the others agreed that they intended on keeping in touch and playing together as long as possible.
"I've come to appreciate the four people as my best friends, honestly, through this opportunity that we get together every Sunday and make this music happen," Raghavan said.
  Music has played a huge role in each of their lives. Through the quartet they want to share the joy that music gives them to others.