Sharp High Heels, Sharper Minds
MN students combat stereotypes in pageant world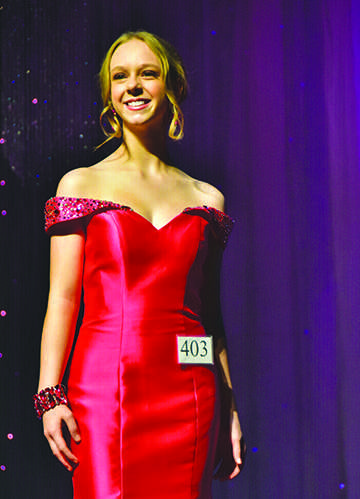 Practicing speaking skills, reviewing walking patterns, brushing up on world issues, and memorizing interview tactics. No, this is not the life of a politician, this is the life of a beauty pageant participant.
Beauty pageants have been around for nearly 200 years, and their popularity has spread to some members of the student body.
One student who recently entered the pageant world is junior Alex Nervig, who was crowned the 2017 Miss Douglas County's Outstanding Teen at the Miss Omaha/Miss Douglas County Pageant on Oct. 9.
"Winning completely caught me by surprise and I couldn't believe it. I worked so hard and it all paid off," Nervig said.
Beauty pageants are weekend-long events that last 8-12 hours per day. These days typically consist of a showing of formal or evening wear, a personal introduction, an interview, and an onstage question to be answered for the participants involved.
Nervig has competed in one pageant so far and her success is now sending her to Miss Nebraska's Outstanding Teen Pageant in April.
"Getting opportunities from pageants has helped me to accomplish my goals of this year and live up to my title," Nervig said. "I would love to compete in more in the future."
Another student who is involved in beauty pageants is junior Katie Nelson, who began competing when she was 13.
"I participated in lots of activities, but they just weren't for me," Nelson said. "But then one night, my sister and I were watching the Miss America Pageant and after watching, I told my mom that was what I wanted to do."
Nearly four years of hard work have paid off for Nelson. She currently holds the title of Teen Miss Great Plains 2016, which she earned at the Princess of America Pageant against four other accomplished participants earlier this fall.
"When they called my name, I was beyond excited," Nelson said. "My sister, who was Teen Miss Great Plains in 2015, got to crown me so it made the moment even more memorable."
Since their beginnings in beauty pageants, both girls have noticed significant improvements in their everyday lives.
"Competing in pageants has really helped me grow as a person, I get to meet and help people of all ages from all around the state," Nervig said.
In part of their preparation for competition, beauty pageant participants spend countless hours devoting themselves to community services and public appearances.
Nervig competes under her platform, "We Are One," which helps her to promote the equal treatment of people with special needs at pageants. She got the idea after working with MN's Sparkle cheerleaders.
"Those students always see the best in everything and can always brighten my day. From them, my platform was created," Nervig said.
As well as giving back to the community, these girls prepare for weeks leading up to a pageant. This includes practicing daily to get themselves ready to compete.
Nelson prepares by attending professional coaching sessions once a week, where she is taught proper pageant etiquette and tips for competing. But her practicing doesn't stop when rehearsal ends.
"They would give me tips and I would practice every day at home. I spent anywhere from one to three hours practicing everyday," Nelson said.
While training for their next pageant, a challenge that participants face is stereotyping. Both girls struggle with getting the message across that the pageant system is about much more than how you look.
"I don't think people understand that pageant girls are more than a pretty face," Nelson said. "It is about building self-confidence and life skills all while learning to be the best version of yourself."
Still, participating in beauty pageants has also helped both Nervig and Nelson in building important life skills while teaching them valuable lessons that will last the rest of their lives.
"The most important thing I have learned is to love who you are and be confident in yourself. There isn't a specific mold you have to fit to be 'pretty,'" Nelson said. "Beauty has no limits."