Running, jumping, soaring
Two MN students find success through tumbling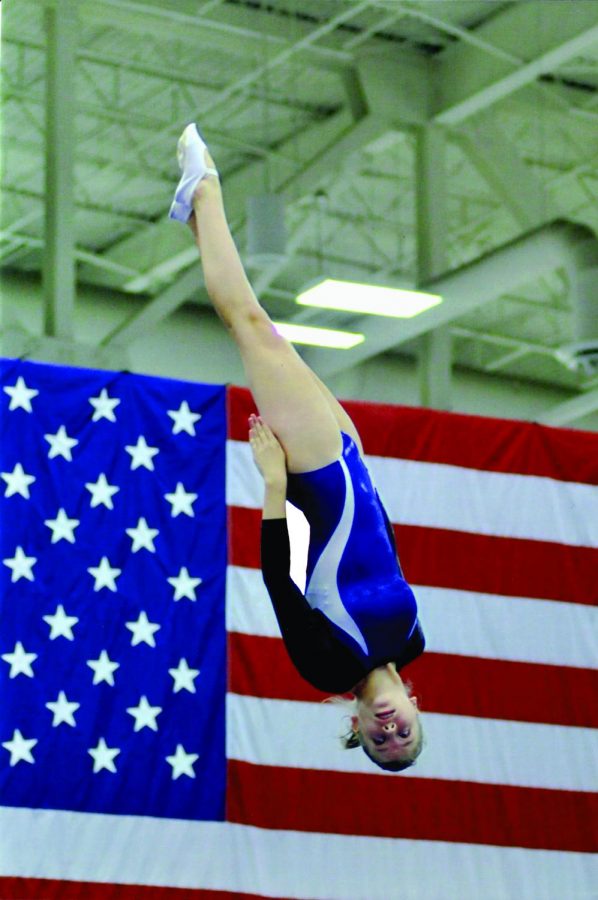 Everybody has wished they could fly at some point in time. For two students, it's more than just a dream. They run, jump and soar through the air, all while looking impeccable.
Senior Jenna Godfrey stepped into the world of gymnastics at age 5 when her mother, a former gymnast, noticed that she would constantly "roll around the house."
"She didn't think soccer or any of those other things were for me so she stuck me in gymnastics, and I really liked it," Godfrey said.
Godfrey continued with gymnastics but as she got older, she transitioned to trampoline and tumbling. She trains at Premier Gymnastics where she practices four days a week for three hours at a time. Her steady discipline has led her straight towards victory and produced numerous successes.
"I've had a couple national championships. The first one was when I was 9 and the most recent one was two years ago," Godfrey said.
Glory however, is not achieved without blood, sweat and tears. Trampoline and tumbling come with their fair share of difficulties and require exceptional strength and flexibility. Your mind plays a significant role as well, and athletes must spend time overcoming mental obstacles.
"One of the struggles that is specific to the gymnastics disciplines (this include trampoline and tumbling) is overcoming fear when learning new skills. Countless hours are put in the gym to make some very dangerous and difficult skills look effortless," Godfrey's father and coach, Rob Godfrey, said.
Additionally, trampoline and tumbling are year-round sports meaning that, unlike seasonal sports, athletes must muster up the motivation to train all year long. This means that since starting, trampoline and tumbling has eaten up Godfrey's life. She does make time, though, to be a part of the varsity cheer squad, another chance for her to reveal her skills.
Her passion has been a prominent part of her life and given her that 'I was born to do this' feeling. Despite that, she doesn't expect to pursue it after graduation or make a career out of it because scholarships for trampoline or tumbling don't yet exist.
Junior Yvonne Jiang spends her afternoons in the gym as well. She trains at Airborne Academy where she prepares to compete at cheer meets across the country. Originally, Jiang only tumbled, but because she enjoyed it so much and her gym also coached cheer, she eventually took up the activity.
Competitive cheer differs from tumbling in more ways than one. While tumbling involves tricks like handsprings and flips, cheer incorporates those, as well as pyramids and other stunts. Competitive cheer is also a team sport, meaning the atmosphere is completely unlike that of an individual sport, namely trampoline and tumbling. As a member of her squad of 17, Jiang must adapt to being part of a group.
"I learned how to put the needs of the team above my own needs," Jiang said.
Competition season is from November to April, during which Jiang competes every other weekend. Her team spends around 10 hours per week, sometimes more, in the gym practicing. Jiang's team "won a national championship in 2014", proof that their ongoing dedication pays off.
She is currently getting ready for two upcoming competitions; her team has one on January 13 here in Omaha and another on the 21st in Kansas City. Even with her years of experience though, Jiang still experiences frustration with difficult moves, stagefright and the fear of injury. However, her love for tumbling and cheer helps her through when she considers quitting.
"I have more good days than bad days so when I have days that I want to quit, there's good days to overpower those," Jiang said.
For many, wings are simply a figment of their imagination. For Godfrey and Jiang, they're a reality.