New Face, New Name, New News
Mustang news network updated with a new look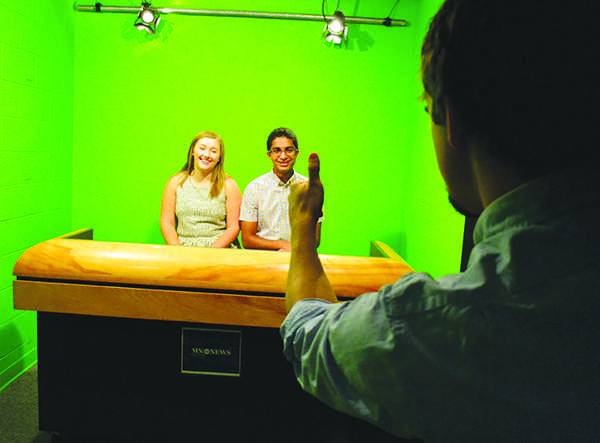 Two students are center stage of a green screen, smiling, and ready to give information for clubs, althetics, and other school-wise instructions to evereyone at MN.
In the past, announcements were played everyday at the beginning of second hour. They were aired live from the broadcasting room, directed by English teacher Mark Hawkins. After Hawkins left, Broadcast Club fell under the leadership of English teachers Michael McCauley and Matthew Eledge.
"I have had experience doing announcements, television, and film production with my previous school," Eledge said. "Mr. McCauley has a background in film and editing."
Teamed up, the two are bringing the announcements up to date. They are making many changes in order to make the announcements more captivating. One is instead of filming live, the announcements are filmed on the days prior to when it is aired, on Mondays, Wednesdays, and Fridays. The recordings are then edited and uploaded to a Vimeo account in order to be viewed by the school.
"Pre-recorded broadcasts are less stressful for anchors; we can edit out any little mistakes," senior Helen Whetstine, member of the Broadcast Club Leadership Team, said.
With this new arrangement come Feature Friday, which means there will be a feature story every Friday. The purpose of these features is to focus on student life at MN.
"Especially when any of our sports or activities are doing really well, we'd like to acknowledge them," McCauley said.
Finally, students don't have to be in Broadcast Club to be on the announcements. A new aspect of the announcements is to have students send in their own video clips that they would like to have displayed. This allows for students to share what they are interested in with the rest of the school.
Overall, the new announcements have had a great success. With all the updates, the new announcements are captivating the students and staff. Also, with the multitude of added features, students and staff are being drawn closer together through the new announcements.
"I think that these announcements have the potential to create a new type of school spirit, a new type of unity and cohesiveness. I think it allows an exciting opportunity for kids that are in broadcasting to cover a new range of things explore new outlets. And I think it's exciting for the kids to learn more and be more proud of their school," Eledge said.