I don't wear bows, I shoot them
Senior competes in international archery competitions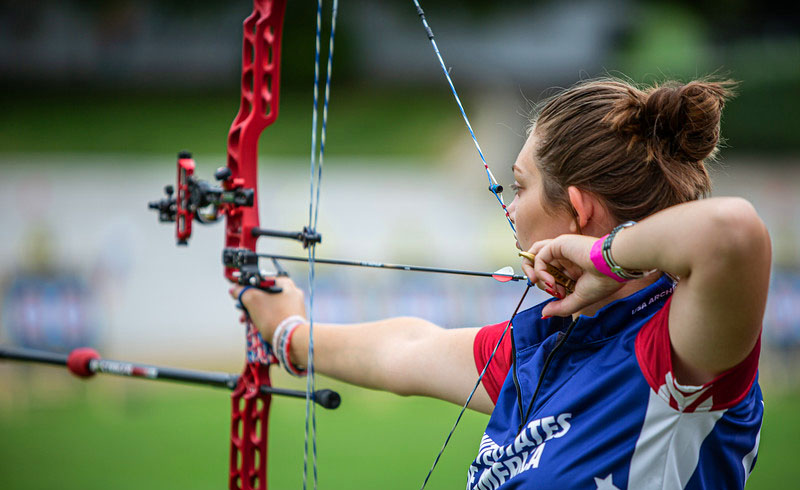 Feet on the line. Anchor point locked. Visualize the shot. Those routine instructions replay in senior Raegan Bender's mind as she prepares to take her shot.
For the last six years, Bender has competed in archery both nationally and internationally, in competitions such as the Cornhusker State Games, the USA Indoor Nationals, and most recently the World Archery Championship, which took place in Madrid, Spain from August 19-25.
Bender has garnered international credibility, being one of three teens on the World Archery Youth champion compound women's team this year. Their team beat the Russian team in the finals by seven points on Saturday, Aug. 24.
"I was kind of in shock and it took me a while to realize what actually just happened. It didn't feel real that we were the world champions," Bender said.
Bender found her love for archery as a whole at a young age.
"I first shot at a horse camp when I was about nine, and I live about five minutes from Full Draw Archery. After shooting, I really enjoyed it and wanted to try it," Bender said. 
Bender started out hunting, but soon got a taste for competition, fueling her love for archery. 
"Her passion for the sport and working towards excellence is great to be around. Her work ethic and positive attitude are outstanding," coach Bill Lewis said.
Bender's work ethic is evident in her practice schedule, going from three to four times a week when she first started to at least two hours every day. Starting in 2013 with the Cornhusker State Games, Bender now competes year-round as well. 
Colleges are also very interested in her and her abilities, as she's been receiving recruitment emails since 2017. Many colleges, such as Cumberland, a private university in Tennessee, are already offering Bender scholarships for archery. 
"I absolutely do not see an endpoint for archery in my life. After high school, I am planning on going to college for archery. After college, I would like to continue my archery career as a professional and continue to coach as well," Bender said.
When she isn't competing, Bender works as an instructor at Full Draw Archery, the store that she's practiced at since she started. 
"Raegan showed an interest in being a basic archery instructor and took the course through us as soon as she was old enough to do it. She otherwise had been helping teach alongside our certified instructors," store owner Deb Colgrove said.
Archery has taken over her life, but Bender wouldn't want it any other way. For her, the practice and perseverance to improve is the part she loves the most. 
"There is always an activity you can practice," Bender said. "There is always something you can work on to become better."