Holiday Festivities in Omaha
MN students volunteer at gingerbread festival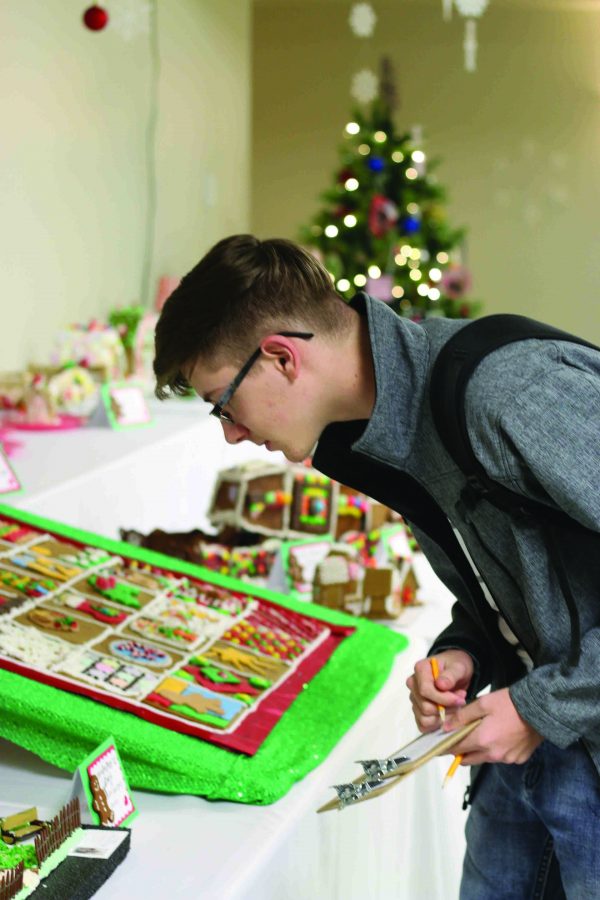 Cheerful lights glimmered above the entrance to the Mormon Trails Center. Entering the door, a guest is greeted by a large room filled will holiday joy. From giant snowflakes and bulbs hanging from the ceiling, to Christmas trees lining the walls, to ropes of lighted garland wrapping around pillars. But the exhibit truly is christened by its wonderland of gingerbread houses.
Every year the center hosts the Gingerbread Festival, an exhibit of gingerbread houses from around Omaha. The exhibit opens on Nov. 19 and runs throughout the season to Dec. 31. The Mormon Trails Center is located in Historic Florence, Nebraska's oldest community, in North Omaha. A second exhibit is located at the Kanesville Tabernacle in Council Bluffs.
They accept gingerbread houses from everyone who wishes to contribute. It doesn't matter to them whether you are a member of the church, are young, or are old. They even offer free classes to learn how to make a gingerbread house yourself.
The exhibit is enjoyable, but the work behind it is a story in itself. The event, is entirely run by volunteers, some of them being students from MN who belong to the Church of Jesus Christ of Latter Day Saints (LDS).
"Our assignment was acting as greeters at the door and using a small clicker to count how many people came through," junior William Stout said. "We had a great time welcoming people with smiles, giving scavenger hunts to the young kids, and handing candy canes to the ones who successfully completed it."
Another important job was setting up and decorating the various Christmas trees around the room with lights and ornaments to give it a festive atmosphere.
"A bunch of girls from my church and I made decorations and decorated the tree for the Festival. I love getting to decorate the room so people from the community can enjoy it," sophomore Quincey Loveridge said.
The festival even gives students the opportunity to showcase some of their talent in a fun way by volunteering to play an instrument on the stage while guests walk around and enjoy the exhibit.
"We were able to play some Christmas carols to help add a festive and reverent mood of the season. I feel that it is very important to give back to our community in any way we can, whether it be in doing services for friends and neighbors, or sharing our talents with others," sophomore Logan Beck said.
Each of the students knows that there is value in giving back to those around them and are grateful for the opportunity to do so.
"I think by reaching out and doing these small acts of service, we improve the general atmosphere of Omaha. Sometimes it feels like what we do is just a drop in the ocean, but as Mother Teresa said, 'without it the ocean would have one less drop'," Stout said.
And while many of them volunteer all throughout the year, they find that there is no better season to show this than around Christmas.
"The gingerbread display is a very festive and welcoming event that uplifts all who attend, and it promotes the happiness and goodwill of the holiday season," Beck said.
However, through all of the fun and activities, the students keep in mind the real reason they do what they do and why they value it so much. Olivia Obeng, a senior who helped with tree decoration believes it a great opportunity.
"Christmas helps people focus on important things such as love, family, service, being a light in the world, and charity," Obeng said. "Rather than things that can so easily occupy our minds like money, pride, and other very temporal things."