A Variety of Acts
Some of the unique acts that can be seen at this year's Variety Show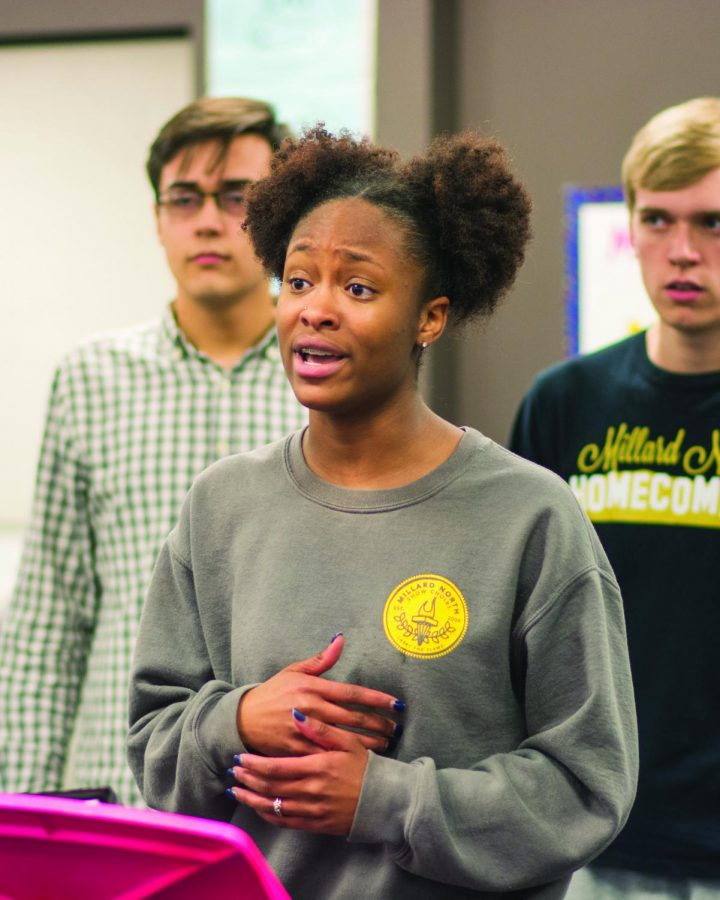 The unique talents of Millard North will be showcased at the 8th annual variety show. After an audition process overseen by MN Director of Choral activities, Ms. Tantillo, those chosen will perform at the Variety Show on May 18th. The talents to be shown are all over the place. Among those talents being performed at the Variety Show, are a Taiwanese dancer, and 80's dance group and a cappella groups.
For some acts the has a deeper meaning that just to entertain. Senior Jou-Pei Chiang, who goes by Michelle, is one of acts that wishes to do more than perform at the Variety Show. She wishes to share a part of her with the audience.
"I like the idea of having a platform for people who have talents to show themselves and introduce their talents to people who do know. But moreover, I really want to share my culture and my country [Taiwan] with everyone who never get the chance," Chiang said.
Other acts see the Variety Show as a chance to share laughs with the audience and only wish to put a smile on their face, like Adam Lesher. For Lesher this is his second and final year of being a part of the Variety Show.
"It's a show crafted by the student. I love the creativity we have to put into the show and seeing the audience's reactions each year," Lesher said.
Last year Lesher and group of his friends did an act called the Pink Windmill Kids, which is based off of the popular clip from "Emu's All Live Pink Windmill Show". This year Lesher will be going big by doing two acts: singing with on of MN's a cappella groups, Nova, and in an 80's dance group.
"I wanted to be a part of both of the acts I am in this year, because they both have such talented performers! It would be a shame not to show off all the hard work each group has put in so far," Lesher said.
One of Lesher's friends participating in the Variety Show as a part of Nova is sophomore McKenna Cottone. Lesher and Cottone have done acts together for the Variety show for two years now.
"[The Variety Show] is a chance to extend our creativity and humor to the entire school and It is something that you won't easily forget. [Our act] is really funny actually because we have fostered a bit of a tradition," Cottone said.
This year the 80's dance group is made up of 14 members. It has both returning members from the Pink Windmill Kids and new members hoping to continue the tradition of a humorous act that everyone can enjoy.
"We uploaded our version to YouTube and it amassed 13,000 views and a shout out from the original cast. The variety show gave us our '15 minutes of fame' and with such a reputation to uphold we couldn't help but to do it again," Cottone said.
The Variety Show's participants promise it will be worth more than the $5 for admission. Check  out the Variety Show on Friday, May 18th at 7 o'clock in the MN auditorium.