Best cup of coffee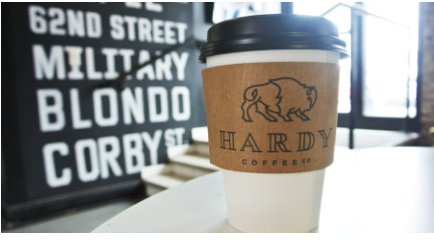 Everyone needs that place- the one where you can cozy up on a couch with friends or some textbooks, order a steaming mug of your favorite roast, and spend hours curled up in the warm, inviting atmosphere of a coffee shop.
Omaha has quite a few unique options for local coffeehouses, but which ones stand apart? There are several amazing options for anyone on the hunt for a perfect atmosphere, as well as a great cup of joe.
Sozos Coffeehouse, located within the Old Market, is one of downtown's hidden gems. The shop is actually below street level, with a giant basement space filled with all sorts of couches, tables, and hangout spots. One can really spend hours here, as they offer pool and foosball, numerous board games to play, as well as a live music venue where local musicians often show off their work.
It was pretty busy on the weekend, but there are so many places to sit that I never felt too crowded, even if ordering did take a while.
I chose to try the Lovebug, a specialty coffee drink with notes of toffee, cherry, and mocha. It could've used a little more cherry flavoring, but it was still rich, creamy, and perfect to enjoy on a cold Saturday.
The peppermint mocha was tasty as well and didn't taste chemically like other places sometimes do.
All in all, Sozos possesses a large menu with lots of drink options, and a great underground, trendy environment to enjoy.
Archetype coffee in the Blackstone district is another formidable competitor. The decor lends a minimalist, mid-century flair to the shop, and there is plenty of seating available. During the busy hours, though, it can feel rather cramped as it is a long narrow building.
As for the coffee, I tried the chocolate latte and it was absolutely delicious. In addition to the great presentation, the latte was smooth and creamy. The chocolate taste isn't too sweet, but still rich and enjoyable.
Their menu is more simplistic, but each drink is artfully crafted and it doesn't feel like they are lacking of any type of beverage.
Archetype Coffee is perfect for anyone seeking a minimalist's paradise complete with delightful coffee.
Last up is Hardy Coffee Co. of the Benson area, also known as Aromas Coffeehouse. This shop also boasts a trendy environment and also contains a live music stage. The staff was extremely friendly and very knowledgeable about the menu.
There is a large variety of seating selection, with a nice open floor plan- the shop has cozy seating but still feels open and airy.
The Cafe Au Lait drink was exceptional; it is simple with not a lot of flavoring, but a good classic coffee nevertheless.
Overall, I would recommend Archetype for the best high-quality coffee, and Sozo's for the most unique atmosphere, but Omaha has a multitude of great coffee shop options that are sure to satisfy any coffee lover.