Phenomenal Film
Omaha's independent film scene embraces the unique aspects films have to offer
Explosions, car chases, and James Cameron's blue aliens (or aliens, in general). These elements, perfected with special effects, are the basic recipe for every typical blockbuster hit, from Avengers: Endgame to Avatar. Some, however, believe that these films are not all that the industry has to offer.
Filmstreams, the only non-profit arthouse theater in Omaha, aims to enhance the local cultural environment through the presentation and discussion of film as an art form.
"Most films shown at multiplexes have to appeal to a more general population. They may not like movies that are more refined or for more sentimental value," Filmstreams volunteer Jay Robinson said.
Showing New American independents, documentaries, and international films making their theatrical premieres in the Omaha area and surrounding regions, the organization hopes to provide experiences and opportunities that no one else can.
"The movies shown at Filmstreams are often foreign and subtitled, so you see how people live in different parts of the world. Moreover, we're living in Omaha, not a large metropolitan area like NYC or LA where there's a half a dozen or so of these venues. It's important to take advantage of this," Robinson said.
The organization has attempted to make its two venues, the Ruth Sokolof Theater and the Dundee Theater, accessible through community development. 
Offering year-round educational opportunities to adults and students, along with a repository selection that celebrates the history and cultural spectrum of film as art, the organization strives to target the entire Omaha community.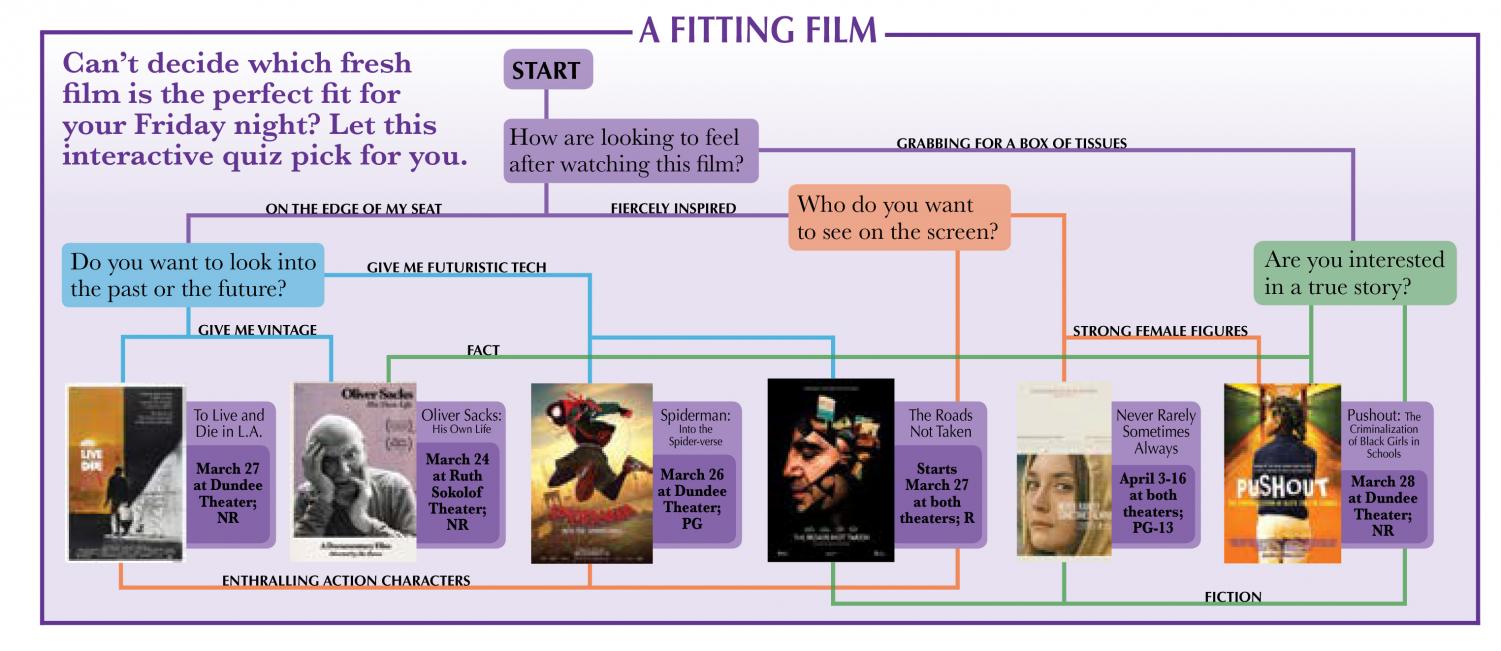 "I'm so proud of the organization that I work for, the community building we strive for, and the really magical and powerful experiences around film that happen all the time," Filmstreams Community Engagement Manager Angie Balsarani said.
However,the organization seeks to not only influence the popular view of film, but also act as a catalyst for important conversation, collaborating with non-profits to screen documentaries.
"There are a lot of things I don't know about. And I love documentaries, so it's good for me to get a different perspective. I don't want to go out and have my bias confirmed all over the place. Even if I don't agree with what other people are saying, I want more information to inform my decisions and beliefs," Robinson said.
Theaters like Filmstreams have further provided an outlet for local artists. With a 'Student Spotlight' for talented local student artists and the annual Local Filmmakers Showcase for more seasoned artists, Filmstreams has a variety of promotional opportunities. 
Last year, the theater had nine opening weekend screenings complemented by introductions from local activists and experts, ten screenings with filmmakers and special guest artists in attendance, and 21 screenings with panel discussions or special introductions.
"Whenever I sit in our theaters to watch a film and our Film Streams bumper comes on, I get really emotional because I get to be a part of this amazing team," Balsarani said.
Still, it can be difficult for local artists to express their creativity in the public eye without the tools to develop it, leading to the creation of businesses such as Aksarben Creative, headed by Film Director and MN English Teacher Saul Knoblauch. 
"I'd found, after making my first couple of movies, that Nebraska is full of creative people who are not coordinating with each other and are not organized about promoting each other's works. I, along with Ben Matukewicz, thought it'd be worthwhile to create a company that would help provide [branding] opportunities for the creative people in Nebraska," Knoblauch said.
Aksarben Creative has worked on a variety of projects, organizing venues and marketing for local creators involved in film. For Knoblauch, grassroots companies are at the heart of the community, at the heart of collaboration.
"It's hard to get started in the local arts scene because everybody seems insular and cliquey. I think the main goal [of Aksarben Creative] is to humanize and encourage an understanding of each other," Knoblauch said.
Despite the quaint nature of the Dundee Theater or the Aksarben Creative headquarters, support from an audience, of peers during free student night and other creators, is vital.
"I enjoy working on live events and film festivals because it's a hub of creative people all stuck in the same room together. They don't have to mingle, necessarily, but they can at least see that nobody there is a scary monster," Knoblauch said. "Usually they're just shy. So, if anybody reading this is interested in making art, go for it."