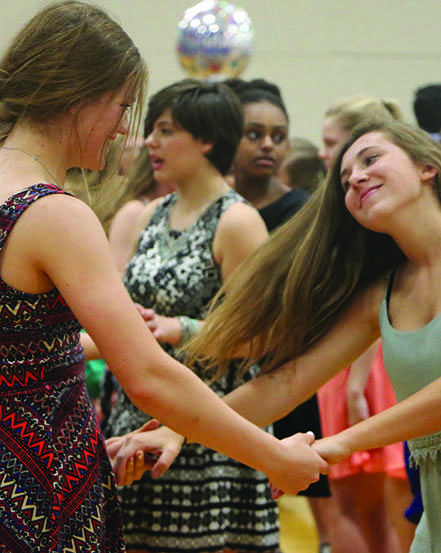 One jazzy night to remember
Students enjoyed the annual Big Band swing dance on May 6th
May 18, 2016
At MN you will find one night filled with delicious cheesecake, an enormous amount of energy, and authentic jazz music that will keep your feet moving throughout the evening. This scene, not one of pure fantasy, was found on May 6, during the annual Big Band Dance.
This dance is far different from your average homecoming or prom. There is no corsage required or formal dress code. After walking through the doors there are many styles to be seen from the classic formal look of the 50s, to the casual styles of the 21st century.
An even bigger factor differing this dance from the typical formal is that all of the music is live. Every year the MN Jazz Band performs a variety of songs that keep the dance floor crowded. Many students enjoy dancing to songs that are not typically heard on five different radio stations.
"It was very fun to be exposed to the talent of the MN jazz band as well as being able to dance in a new type of way," senior Sayde Simpson said.
A unique aspect of the Big Band Dance is that it is actually a community event. MN welcomes family members of students along with members of the community to enjoy the upbeat atmosphere and the complimentary refreshments including cheesecake, cookies and lemonade.
Though this dance has been a popular event for the students that attend, the jazz band members themselves have a unique perspective into the preparation involved in putting the dance on. After all, without them there would not be the classic big band vibe that makes the dance so memorable.
Since the Big Band dance is unlike other formal dance, many students who have not attended in the wondered what would be in store for them if they decide to attend this year.
"They should expect a great time with great cheesecake, and lot's of fun music with lot's of fun dancing," senior Andrew Barber said.
Barber along with all other members of the MN jazz band have prepared since February for the dance, and looked forward to performing for their peers prior to the event.
"I am excited about getting to perform and play some of my solos along with dancing, listening to the other bands and things along those lines," senior Jacob Coughin said.
Students did not need to be expert swing dancers in order to have a great time. Instructors from The Omaha Jitterbugs came to teach attendees a few basic dance moves that quickly got them moving their feet on the dance floor.
"I had a lot of fun. It made me want to join the Omaha Jitterbugs," senior Jordan Loveless said.
Many students can attest to how unique the environment was during this past dance. The atmosphere may truly take you back to a different era of music and dance moves.
"There's really good music and I'd say it's the best dance," senior Sophia Holt said.
Whether you're a jazz junkie or just a music lover in general, there is a spot saved for you at this popular event.
One thing is for certain; during the dance the horns are blowing, the floor is shaking and the energy is rising long into the night.