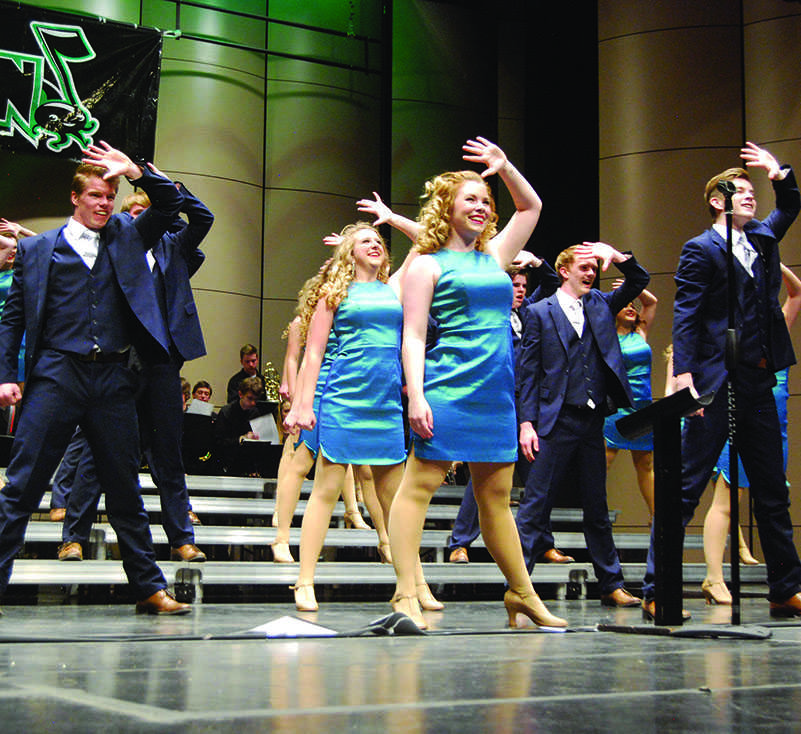 Photo by Taylor English
Infinity finds success on stage
Varsity Show Choir heads 'on their way home' with a championship
February 5, 2016
After six years of dedication and endless rehearsals, Millard North's varsity show choir, Infinity, created history at Gretna PrimeTime.
"Everyone was so excited, the energy in the room was intense and we were all so excited," junior David Tuttle said.
Infinity blew the judges away and secured the first place Grand Championship, despite being in the middle of a revamping phase in Infinity's framework.
With the help of their new choir director, Megan Tantillo, and intense practices each week Infinity was a major success in Gretna.
"For almost 3 years now they (Infinity) have been award 2nd, 3rd, 4th and 5th place. We debunked the "rebuilding year" assumption by placing 1st place in prelims. With a new director, new choreographer and new arrangers, that is almost unheard of." Megan Tantillo said.
Tantillo's active approach towards perfect choreography and her passion towards show choir has helped Infinity members feel more engaged in rehearsals and motivated to succeed.
"
Ms. Tantillo has been able to ignite the spark in all of us to become the best that we can be. I can not imagine any other person who would be able to come in the first year and make such a remarkable and positive difference in our show choir program"
— Courtney Tompkins
Many students may not understand the great lengths Infinity members go through at their weekly practices. However, the effort that goes into their training cannot be denied.
During practices members do not just learn new songs. To warm up their bodies and voices, Infinity members have to run laps around the school whilst singing their show songs. This helps members build endurance and trains their voices to be able to keep a note while dancing during performances.
"The dancing in show choir is no joke and being able to have enough breath support for vocals is a struggle!" senior Carli Johnson.
Along with the physical efforts put forth through dancing and running laps, Infinity also uses practice time to learn new songs and perfect their parts. Combining so many voices together to create perfect harmony can be strenuous.
"It's really challenging at first, but it's really cool to see how the songs comes along vocally and improves over time," junior David Tuttle said.
While rehearsing difficult songs and challenging choreography every week is a draining process, the end result is well worth the long practices. The friendships created are the most meaningful bonds for many Infinity members.
"I know that I can count on any of the 150 other members to be there and support me in any situation. Spending 20 hour days with everyone allows us to build special bonds that can never be broken." junior Courtney Tompkins said.
By combining forces at the Gretna PrimeTime, Infinity was able to snag the Grand Championship. With the tireless effort put into rehearsals and the unity of teamwork, Infinity will bring more titles to their group's legacy.
This year's show choir season continues throughout April and there will be six more competitions. Infinity plans to keep up their hard work and dedication to achieve more successes at their future competitions.