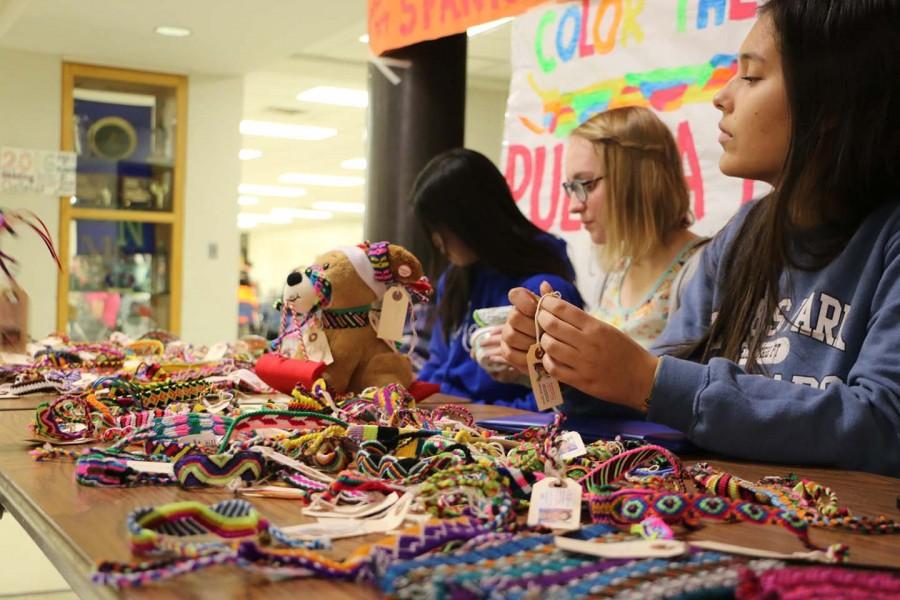 Photo by Christi Fournier
Changing lives the pulsera way
Students' small steps toward changing the world
March 3, 2016
Students all around the school were splashed with color as the Sociedad Honoraria Hispánica [SHH] shared the art of Central America with the students of MN. SHH partnered with The Pulsera Project, a nonprofit organization that sells handmade Nicaraguan pulseras ("bracelets" in Spanish) in schools across the United States.
"I asked members for [project] ideas at a meeting and then gave them the chance to vote on which project we would do," senior and SHH officer Emily Moor said. "The Pulsera Project was by far the most popular among members, and I was glad we were able to help with such an awesome cause."
The organization was started in 2009 when a group of 13 friends traveling in Nicaragua came upon a group of pulsera makers in the foothills of the Nicarguan capital of Managua. When the students returned to the United States they realized the opportunity they had to create a much larger market for these artisans whose market was very limited back at home.
According to The Pulsera Project Website, "we now work with nearly 100 Nicaraguan and Guatemalan artists and have partnered with students in more than 1,300 U.S. schools, weaving the art of the pulsera into a positive and colorful force across the U.S. and Nicaragua.
Since their start, 400,000 pulseras have been sold across the country, raising more than $2,000,000 to create reliable jobs, empower Nicaraguan people, and provide educational opportunities in both the United States and Nicaragua alike.
"Every year, our whole chapter of SHH works together on one project to help a Spanish-speaking country. SHH members already are pretty aware of how blessed they are and jumped at the chance to serve the global community," Spanish teacher Theresa Jensen said.
The members of SHH are a part of this group because of their love for the Spanish language and their aspirations to pursue a deeper knowledge of the language and culture. They were thrilled to get the opportunity to raise just over $1,300 for The Pulsera Project.
"Helping with the project is special for me because it means that I am taking a step toward my dream of helping people around the world," junior Helen Whetstine said.
"
Being part of the project has really opened me up to new opportunities to serve the global community"
— Helen Whetstein
The project is not only a way that students can help those who are less fortunate, but it is an opportunity that SHH students an grow their leadership and volunteer skills. They have to organize the selling of the pulseras, advertise them, explain to other students the purpose of the project, and volunteer their time to sell them.
"Everyone was involved, be it by counting bracelets, selling at lunch, making posters, flyers, hanging posters, selling at their church, making presentations in their other classes to promote it, and two students even used social media and launched a Twitter campaign," Jensen said.
The pulseras are woven together with brightly colored strings to create designs that people love and buy. Each of them is uniquely made and comes with a tag that has the photo of the artisan who made and their signature. This makes purchasing a pulsera incredibly more personal for students and teachers, as they can see the very person that they are impacting.
"I hope that the project starts a chain of service and generosity," Whetstine said. "We were born so fortunate, and it's our duty as global citizens to give all that we can to people who are in need. This is something that I hope the whole school, not just SHH, realizes."