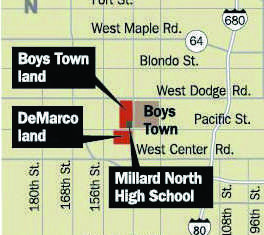 An urban makeover
Land development will take place in farm land surrounding MN
May 18, 2016
"Our school is literally surrounded on all sides by cornfields."
The subject that many people joke about regarding the nearly 500 acres of farmland surrounding MN is in the process of being developed according to the April 16th issue of the Omaha World Herald.
The northern 260-acre tract of land, which MN cuts a corner off of, between Pacific and Dodge, is owned by Boys Town, while the southern 225-acre piece of land, between Center and Pacific, is owned by the DeMarco family. These lands are like gold nuggets to developers in the Omaha area because of their close proximity to Dodge street and central location in the Western Omaha area.
As reported by the World Herald, the buyer, for the time being, is choosing to remain unidentified. The real estate developer, Noddle Cos., however, has identified themselves as the ones who have been selected to develop the land. They have previously done projects such as the First National Business Park, Aksarben Village, and parts of the downtown riverfront.
The plans to purchase these lands began several years back when the buyer's agents approached the DeMarcos about their land, which has been owned by the family for over 50 years. While the family has had other offers over the years, they agreed that they would not sell unless the buyer was going to be a good steward of the land.
"What they proposed and talked about—this is the real deal, a real first-class deal," Arvin DeMarco, an owner of the land, said to the World Herald. "We think it's a home run for us to move forward."
The plans shifted to include the Boys Town West Farm when Boys Town began to market it a year ago. All development, however, is subject to Boys Town's approval. Father Flanagan originally purchased this land in the 1930's in order for it to be used to feed the boys. As years went by, a dairy barn was built, along with cottages for staff. The farm ran until about the 1980's. More recently the land has been used for community gardens.
The buyer plans to move hundreds of employees into office space on only one part of the purchased land. The development of the whole area is expected to take about a decade to unfold. They are considering building such things as offices, a hotel, restaurants, retailers, medical related services, houses, apartments, and retirement communities.
It has often been wondered how long it would take until the suburban sprawl would spill onto this untouched ground and build it into a familiar West Omaha landscape—the answer seemingly has come.