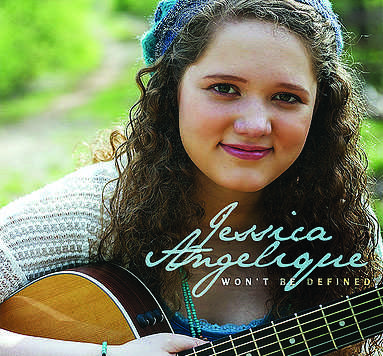 Spiritual singer-songwriter
Jessica Vogt and her journey of faith, fame, and fearlessness
May 18, 2016
As a freshman, Jessica Vogt has made a name for herself in the music world with the stage name Jessica Angelique.
At only age 15, Vogt is a published singer/songwriter with her album "Won't Be Defined". However, Vogt would not be where she is today without her humble beginnings. The passion for music sparked for Vogt when she was in first grade.
"I've always had a deep love for music," Vogt said, "When I was young, if I wasn't sleeping I was singing."
At a young age, Vogt decided she wanted to reach her dream of being on stage. And her mother, Pilar Vogt helped.
"When she was ten she decided instead of dreaming, like most girls, she should do something about making her dreams a reality, so she asked me to enter her into as many singing competitions that she could enter," Pilar Vogt said.
Vogt was entered into many different singing competitions throughout the Midwest. First, Vogt auditioned and performed at the Galaxy of Stars Talent Competition at the Nebraska State Fair.
The next year of the competition she made it to the finals. Later that fall she auditioned for Nebraska's Got Talent and finalized once again. At the beginning of the next year, right after turning 12, Vogt entered an international talent competition called AMTC, Actors Models and Talent for Christ.
The start of Vogt's music career began with her performance in the AMTC. At that competition, Vogt put her homemade demo CD into a bin. Later on, "Tate Music Group" received that CD. Vogt then got a call from the Oklahoma record label. She had been signed.
The record label assigned Vogt to write ten songs with a promise to publish eight of them. After putting time into the songwriting process, Vogt wrote up about 46 songs for her album.
After all the hard work and dedication that Vogt put into her songs, she picked out eight of her songs, went to Oklahoma, and began recording.
Her album titled "Won't Be Defined" was then published. The album centers around the idea that we are not defined by what others think of us, but "what God thinks" of us. Vogt's album has received lots of positive feedback.
"I've gotten absolutely amazing feedback, especially from industry professionals. I've had many CCM (Contemporary Christian Music) recording artists rave about my music, and they all love my voice and my songs," Vogt said.
Not only has she received positive feedback from her music, she has also received an award for two of her songs.
The award she won was called the Great American Song Contest. She was finalist with the songs "Stained Glass Heart" and "Priceless", two of the eight songs off her album.
Now Vogt can be seen performing in churches, at the 402 Arts Collective in Benson, and even singing the National Anthem in the Ralston Arena.
"
It feels amazing to perform, I absolutely love it! When I know what I'm doing I have no doubts or fears and God brings me through it, and I'm sure that without God I wouldn't be able to perform like I do"
— Jessica Vogt
When Vogt was in seventh grade, she started up a band, "The Fifth Seal". The Fifth Seal" performs worship songs and Vogt's originals in their local community.
"I thought that it was a cool opportunity and a great way to use my talents for worship," Rupp said.
At only age 15, Vogt has made herself known in the music world. From songwriting to performing, she uses her gift to share her message.
Vogt has already made it far in music and still has a lot of life ahead of her.