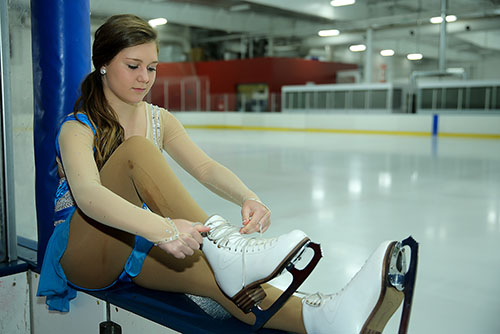 Zhi XU
Blades of Glory
Students glide towards tournaments, trophies, and titles
January 7, 2016
Each morning senior Charissa Bender and freshman Christina Mantsorov wake before the break of dawn. Before most of their fellow class mates are even awake, they can be found out on the ice perfecting their figure skating routines.
Ever since Bender, was nine years old ice-skating has been a passion. Through the years of dedication and perseverance, Bender has faced the challenges that this competitive sport offers. Because of its end goal of a perfect performance, ice-skating can be very time consuming.
"Preparing for competitions takes a lot of time and practicing your programs in order to do well, or be satisfied with your performance," Bender said.
Fellow ice skater and freshman, Christina Mantsorov, also faces her own challenges on the ice rink.
"The most challenging part would have to be having your dad as your coach because he pushes you more than anyone to accomplish something." Mantsorov said.
However, ice-skating definitely has more positives than negatives for these skaters. Throughout their yearlong seasons these athletes have the ability to travel across the nation for various competitions.
"We do travel to compete, one of my favorite memories was getting the opportunity to travel out to California and to see high quality skating along with touring the state." Bender said.
Not only do the skaters enjoy club bonding and fulfilling their passions at these out of state competitions, but they also go up against top competitors from all over the nation.
"People from all around the nation were competing there and I was the only one not from a well-known club at finals and filled me with pride to represent Omaha." Mantsorov said.
With her years of dedication and practice towards this sport and the help her dad and coach, Mantsorov holds the title for "the best figure skater within a 400 mile radius of Omaha". A feat that is not easily obtained.
For these athletes, skating is a lifelong passion. While there is the ever-present pressure of competing and the long practices, these skaters find refuge on the ice. Ice-skating has been a fundamental part of both of their lives.
"Skating has taught me so many skills like managing and balancing time. Practicing before school can be difficult but it pays off," Bender said.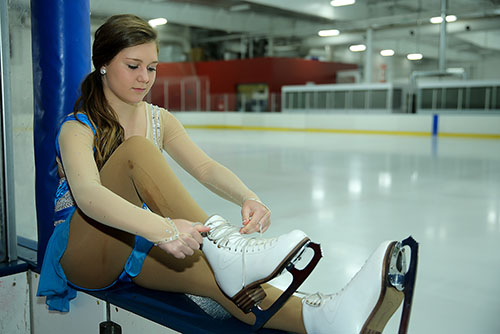 With the skills learned from ice-skating, both Mantsorov and Bender will be able to better pursue their futures.
Bender aspires to be a part time coach one day, alongside her career of choice. Bender has started coaching "learn to skate" classes at Moylan Iceplex since this last summer.
"I like the opportunity to spread the joy of skating that I have had to other kids," Bender said.
However Mantsorov sees herself in on a different path. Though she is well ranked in the skating world, her ambitions are more geared towards helping others in the medical field. With what she has learned through skating Mantsorov is confident that she can make a difference.
"Figure skating teaches you life lessons that can either make you, or break you. After people quit ice skating, they always say how blessed they were to have learned what they had about life at such a young age." Mantsorov said.