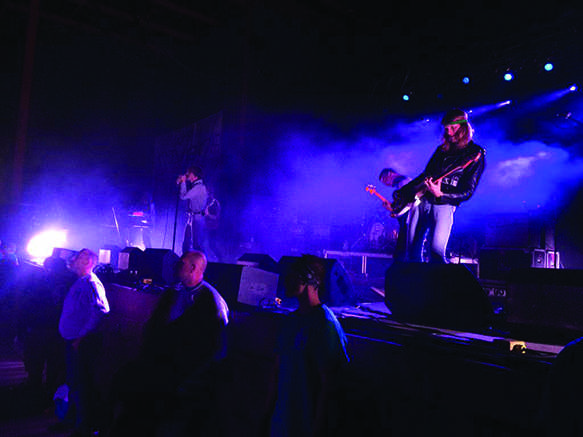 Cage the Elephant Returns to Omaha
April 13, 2016
Last summer, Cage the Elephant made an appearance at the Westfair Amphitheater for the No Coast Music Festival. Recently, the band announced that they would be returning to the Midwest on July 15. This time they will be heading to the Stir Cove in Council Bluffs. The tour is to celebrate their new album titled "Tell Me I'm Pretty". This is their fourth album since starting out in 2006. Tickets for the Stir Cove show went on sale April 1 with general admission costing $33.
The band is known for their energetic, upbeat performances. They have made their name in Omaha by performing in many music festivals. What makes this show different from the rest is that they are having their own show, not just appearing with a line up. Those who are attending this show can look forward to seeing Portugal. The Man who opens for Cage the Elephant this summer.
With each performance comes a new experience, similar to their albums. It seems as though with each album comes with a new style. Blues, Funk, and Classic Rock influenced the band's first album. Then came the band's second album, "Thank You, Happy Birthday", which was displayed to have been heavily impacted by punk rock bands such as the Pixies and Nirvana.
"Melophobia", the band's third album, was more about finding their own style rather than going off the influences of others. This risk caused the band to earn a Grammy Award nomination in 2015 for Best Alternative Music Album. "Tell Me I'm Pretty", produced by Dan Auerbach of The Black Keys.
The band is well known for their upbeat, alternative rock style. However, this album is a little bit more on the serious side. With songs like "Sweetie Little Jean" referencing the kidnapping of the band members' childhood friend. Most of the songs are slower and more emotional, while still keeping their original style.
Cage the Elephant has made a name for themselves both in the music world and with their Midwest fans. The band has progressed from preserving music styles to creating their own unique style. The bands performances captivate their audiences with their electric unseen style. Their Midwest fans can look forward to seeing them preform at the Stir Cove this summer.