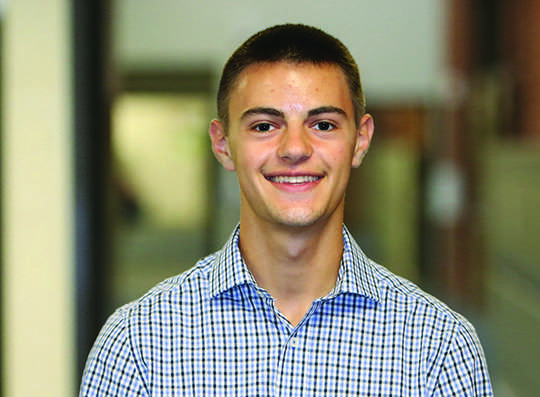 This is Tyler's second year on the Hoofbeat staff. He is the Opinions Editor and is happy to be a part of such a great group. Tyler has a love for reading and writing for his website,
DiscovertheAnswer.org
, which is dedicated to answering people's questions about the Bible, faith, or anything related. He is involved in the marching band and is a Mustang Mentor and Ambassador.
Tyler Collins, Opinions Editor
May 15, 2017

My Thoughts After Four Years

(Story)

May 03, 2017

Public Schools Teaching a Worldview?

(Story)

Mar 06, 2017

Judging Entire Religions?

(Story)

Mar 06, 2017

Act Prep to Academic Sucess

(Story)

Feb 21, 2017
Feb 21, 2017
Jan 11, 2017

Radiometric Dating: Flawed?

(Story)

Jan 11, 2017

Holiday Festivities in Omaha

(Story)

Nov 21, 2016

Rallying Together

(Story)

Nov 21, 2016
Oct 25, 2016

Home Is Where The Hits Are

(Story)

Oct 25, 2016

Truth: is it real?

(Story)

Sep 20, 2016

Noah's Ark: Fact or fable?

(Story)

Sep 20, 2016

Remodeling Reactions

(Story)

May 18, 2016

An urban makeover

(Story)

Apr 13, 2016

Evolution: Are We Really Getting the Full Story in Class?

(Story)

Apr 13, 2016

Cleaning the Mowers for SkillsUSA

(Story)

Mar 08, 2016

The Introvert: Bringing out what's inside

(Story)

Mar 08, 2016

The Extrovert: Explaining their exterior

(Story)

Mar 04, 2016

Preserving Precious Life

(Story)

Mar 03, 2016

Changing lives the pulsera way

(Story)

Feb 09, 2016

Technology that could take over the classroom

(Story)

Nov 19, 2015

Senior dominates varsity in more ways than one

(Story)

Nov 02, 2015
Oct 04, 2015

Adventures Overseas

(Story)

Oct 04, 2015

Minion Craze: What it is and why opinions are raging

(Story)