Roll Stangs
Inaugural Unified Bowling team wins Districts to reach State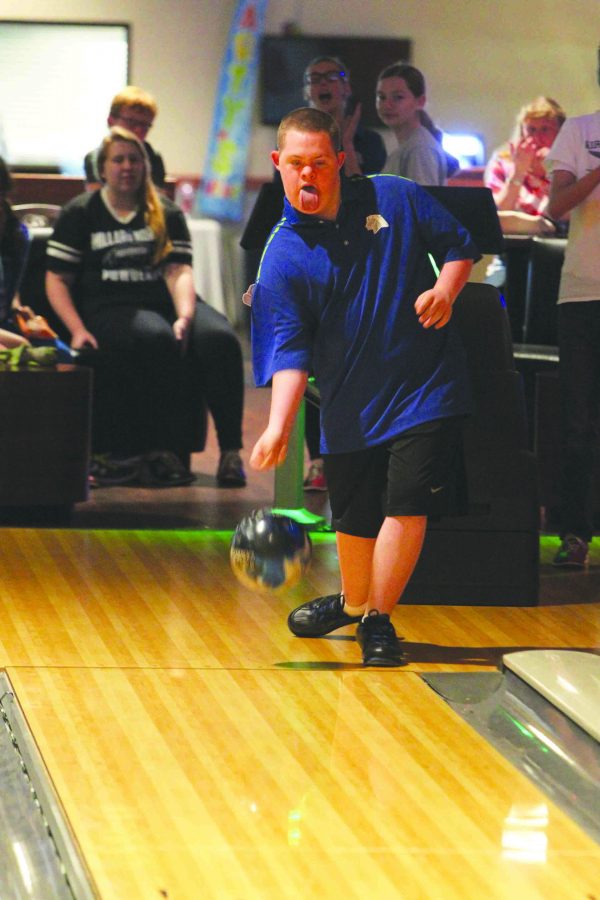 A huddle forms in the middle of two bowling alleys. Athletes in blue jerseys look around in anticipation. With a rack of bowling balls to the right and the rival team to the left, the intensity is palpable. In the middle of the huddle, Coach Tricia Rohde reminds each player about all the work that has gone into preparation to reach State. Spirits rise as the players get pumped up together. In unison, the players let out their enthusiastic mantra, "one-two-three roll stangs!"
On Nov. 28, the unified bowling top team qualified for the State tournament after narrowly defeating Millard West in the last game of districts. State qualifiers included senior Anders Hanson, senior Raymond Manuel, senior Jacob Spivack, junior Tony Thompson, and freshman Cameryn Rose. After MN's first year participating in the sport, the team competed at State in Lincoln on Dec. 5.
"It was amazing. We won each game all the way up to state. This being the first year that there was a bowling team at Millard North, winning districts and going to state was that much cooler," Manuel said.
Unified Bowling is a new NSAA sport that is being widely encouraged in Millard. With 14 special education students (athletes) and 16 general education students (partners) at MN, the goal of unified sports is to promote social inclusion through shared training and competitive experiences.
"I am really hoping that it brings awareness to students with abilities. Instead of students with disabilities, they're students with abilities. Like the stats will show, almost all my athletes bowl better than a good percentage of the school. Though they have a disability, they still bring so much to the table," coach Christopher Cobb said.
The members of the unified bowling team were able to display their skills during weekly meets at Alley V, a local bowling lounge in Omaha. After a successful inaugural season, the team's abilities were made clear in their qualification for State.
"At State, I was doing something completely new for our entire district. I was not only competing for my school, but for my teammates as well. It was exciting to have a time of victory as a team," senior Jake Spivack said.
While the competitive spirit is always driving the players, it is not the only motivation for joining the team.  Many athletes and partners were inspired by the communal aspect of the sport.
"I don't care about competing that much, I care about being with people. I love making new friends, and that's why I decided to bowl for them," junior Tyler Olsen said.
Student managers and partners on the team provide assistance to athletes by setting up ramps, providing guidance, and being encouraging throughout the meets. From the very beginning, Rohde was blown away by the massive amount of support that was shown amongst teammates.
"Originally I was worried that I would have to do a lot to help kids bowl. But during the first practice, Mr. Cobb and I looked back and saw the general and special education kids all working together. A lot of them aren't involved in other things so it really is amazing for them to have this," Rohde said.
The collaborative spirit on the team is what gave way to the immense success through the season. During the first meet, sophomore Bailor Henderson-Bryant was instrumental in spurring success amongst his teammates.
"I was pretty bad at first, but then Bailor was able to give me a couple tips. He told me to try to curve the ball but not too much. It actually worked," Olsen said.
After using Henderson-Bryant's strategy, Olsen was able to rack up a couple strikes and move up the rankings. This is just one of countless examples of how training and playing together has led to a quick path of friendship.
"I've known some of the students for a couple years and when we bowl together as a team, we grow together. We always have a great time and we work great as a team," freshman Molly Rashleigh said.
The relationships created by the bowling lanes extend beyond competition. Along with knocking down strikes and winning meets, the friendships created while playing merge into daily life.
"I love getting strikes. But even cooler than those—after our first meet, Tyler and Ryan and I all sat together at lunch. It was pretty cool," freshman Ethan Peterson said.
As the unified bowlers continue to find support and inspiration amongst each other, Rohde and Cobb expect to return to State next year as an even stronger force. The impact of unified bowling is part of a larger ideal of inclusivity for special education students that continues to echo through not only school hallways, but also roll down bowling alleys.