Change for Change
Amnesty collects for an orphanage in Sierra Leone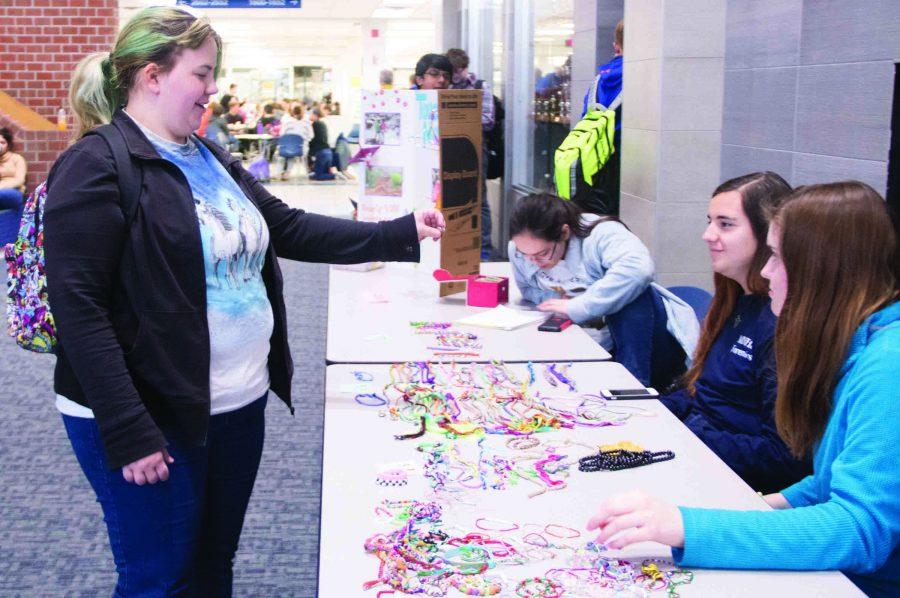 Coins clink, jugs rattle, the tradition continues. Each year, Amnesty members roam the halls with milk jugs to collect money for different charities. In past years they have chosen to fund Heifer and the Malala organization. This year, club sponsor, Rhonda Betzold, decided the money should go toward Touch the Nations.
This year's milk jug drive occurred Dec. 5-14. During these days, students were able to flag down any student walking around with a jug and give them their spare change. However, Amnesty is not just relying on milk jugs to collect money for the charity.
In addition to Amnesty's traditional milk jug drive, they added new ways of collecting money. During lunch and after school, students could drop by the donation tables and receive a cookie or a bracelet in exchange for their donation to Touch the Nations. Senior Pranita Devaraju, a member of Amnesty, helped the group sell these cookies. This group alone raised over 650 dollars to help Touch the Nations.
"Every member of Amnesty carries around a milk jug," Devaraju said. "But after we were split up, I found a more exciting way to collect change."
Additionally, Betzold created a competition between her classes. Each class had a different jug to add change to and at the end of the week, the class with the most money won.
Katja Starkey, director and founder of Touch the Nations, started a non-profit charity with the hope to maintain support for former 'street children' and to expand work into other countries.
"After traveling to 38 countries in my late 20s, seeing the drastically different living conditions much of the world experiences, I was unable to return home to Omaha and ignore what I had seen," Starkey said. "I saw children fending for themselves, begging in order to eat, and sleeping in rags on the streets. It sounds like fiction, but it is a harsh reality in our modern world."
Starkey has contributed to Amnesty Club as a guest speaker and aided the club in last year's book drive for Sierra Leone libraries.  For this fundraiser, Starkey and Betzold teamed up. The goal of this fundraiser was to help fund Touch the Nations in building an orphanage for children in Sierra Leone who lost their parents to Ebola.These orphanages will not only provide the children with shelter but will also contribute to the children's education.
"I consider it a profound privilege to impact youth. If I can in some small way 'take the blinders off' of anyone to realize the deep suffering that occurs in our world, but also inspire anyone that we can bring about significant change, I will consider that a success," Starkey said.
With these donations, the students will have greatly impacted the progress of the orphanage being built in Sierra Leone.
"I am glad that the money is going to a worthy cause because Ebola and these orphaned children are a really big issue in Africa right now," Devaraju said,
Global Giving explains the cost of the project by telling where each donation will go. For example, ten dollars will buy a bag of cement, 50 dollars will fund a six month scholarship for an orphan, and 500 dollars will go towards sheeting metal for the roof. No matter the size, any donation could help to pave the way for these orphans.
Besides raising funds, Betzold also wanted to raise awareness in the school. She wanted students to be informed of the different issues that are occurring in the world.
"We would like to remind students at MNHS how fortunate we all are to live in America, a country that values our lives and our health," Betzold said. "We also hope to encourage hope in the students of the school that they can make a positive difference in the world, just through small acts of giving."
Ultimately, Amnesty Club was successful in reaching their goals. With the help of the student body, Amnesty members were able to make an impact on the lives of thousands of children in Sierra Leone.
"Even though I did not donate much, I still wanted to help out," sophomore Brandi Eby said. "It helps children in need to have what we have."