A Prom Makover
A different venue, a unique competition, the same special night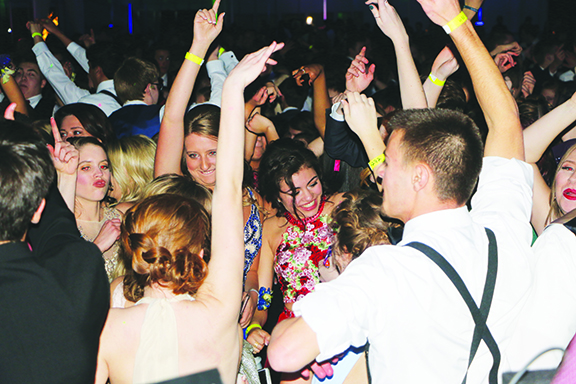 Hang on for a minute...we're trying to find some more stories you might like.
"And your Prom Queen is…" is a phrase commonly heard in high school prom's throughout the nation. The anticipation and speculation on who will win is all the buzz leading up to the end of the year prom. But this year MN decided to change things up. The tradition of voting for a member of the junior or senior class for the title of Prom Prince/Princess or King/Queen ended and a lip sync battle took its place.
"I think the battle was a great addition to prom, but I'm not sure if I view it as a replacement for royalty. They are two pretty different things," senior Josiah Aakre said.
Students who wanted to participate were asked to enter in a video of themselves lip syncing alone or together with friends as part of the audition process. These videos were then evaluated by a teacher and narrowed down to the final three competitors to do a live performance at prom. It allowed for any student to participate if they would like.
"The lip-sync battle had the opportunity to include more people and have a more competitive edge to it," senior Nate Shaffer said.
Students were even involved in choosing the winner. After all the performances were done, it was decided by the amount of applause who would be the champion. The last performance from seniors Joseph Roth, Tyler Collins, Nate Shaffer, and Josiah Aakre of "Wrecking Ball" by Miley Cyrus ultimately won.
However, one issue though was with the setup of the performances. It was done right on the dance floor, so many students weren't aware it was going on.
"I think there should have been a stage so we could actually see the battle. I am short and was in the back so I didn't really get to see anything happen," Junior Naman Nisheeth said.
Another change to prom this year was the location. It was held at the Baxter Arena in Aksarben instead of where it's been previously held at the Centurylink in Downtown.
"I loved having prom at the Baxter. The free parking was a plus and everything worked smoothly," senior Rachel Nielsen said.
Students didn't have to worry about scouting out parking spots and paying for them with this new location. It's also more convenient with it being closer to the school than the Centurylink. Even yet, some students were not fans of the new space.
"Centurylink has a nicer feel, it feels like you're paying for an expensive prom whereas prom at Baxter felt like it was not as fancy or nice and less like you were getting your money's worth," senior Kori Christensen said.
With it being at the Baxter Arena, prom was held on top of the hockey ice rink with a covering for this special occasion.
"I didn't feel like it was formal when we were inside an ice rink," senior Norhan Basma said.
All in all, feelings were mixed about this year's prom. Whether it was due to the new location, the lip sync battle instead of prom royalty or just one's overall time at prom, it was a different experience for everyone.