Frontline for the Foreseeable Future
Millard contracts Frontline Security company to fill security guard deficit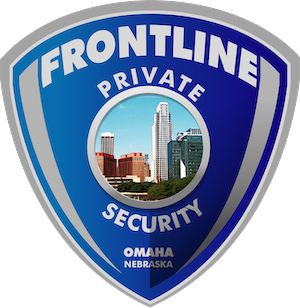 Every day, as students walk into our school, we see countless staples of the environment: posters advertising clubs on bulletin boards, teachers standing outside of their classroom doors, breakfast being eaten in the cafeteria, and security guards patrolling the hallways to keep us safe.
Lately, a new sight has entered the scene: additional security guards, the patches on their jackets emblazoned with the word "Frontline." These security guards may appear unfamiliar to students, but MN and Millard have contracted Frontline Security– a security company in Omaha– before. Originally, they were hired to be security for the parking lots and during nights.
"We use Frontline to supplement the security systems and people we deploy.  For example, we currently use Frontline to respond to after hours building alarms that may be triggered and we also use them for after hours patrols when necessary," Millard Director of Student Services Bill Jelkin said.
Recently, it became necessary for Frontline Security to become more involved in the district. Specifically at MN, security staff had left for various reasons, and the applicants to fill security guard positions were slim. This led to the administration having to hire Frontline Security workers as campus staff to fill the gap. 
"We had people [security guards] here for the first semester, we had pretty much close to a full crew, but then we had some people changing positions, going somewhere else in the district," MN campus security guard Ryan Miksch said. "So [the] beginning of second semester was really kind of challenging, just because there was a few of us here that were left, and we had a lot more stuff to do." 
This deficit of campus security also affected Millard South, who have had to contract Frontline Security as well. Assistant principal Mary Bayne, who oversees safety and security, attributes this need to the hiring struggles sometimes experienced by certain job areas.
"I think it's running the trend of a lot of things. People are not taking those types of jobs, like when you go to a restaurant, and there aren't enough waiters; you're finding it everywhere. We're the victim of that also," Bayne said.
Proof of this dip in hirees to fill school needs is shown in the numbers for security guards district wide. Millard South, West, and MN each get five security guards, and Horizon and Central Middle School are each allotted one. But Millard is currently only employing 12 out of these 17 positions. That is where Frontline comes in.
"We just try to keep the building fully staffed if at all possible," Jelkin said.
There are currently three Frontline workers who are filling those empty positions within the district. However, it is not always the same Frontline security guard working in a building. Sometimes, a worker is switched out or gets sick and is replaced by a Frontline worker who is new to the school. When this happens, there is a learning curve and the new security guard must be taught Millard and MN protocols.
"When you get new people, and then the next week is someone new, and the next week is someone new, then that's a training process over and over and over again. So it's been more labor intensive…It's just like every time you get a new person, you have to communicate more," Bayne said.
Although there is somewhat of a learning curve for the Frontline Security guards, their job is still the same as the MN security workers. One difference for Frontline, however, is that they must acclimate to the environment of a school with many new students and staff to interact with.
"Typically it's the same mission: the job of keeping students, faculty and the campus safe and secure," Miksch said. "They're [Frontline security guards] just new, so they have less interaction with students, just [because] they don't know anyone."
Despite the difficulties from the occasional turnover of the Frontline Security guards, and their initial unfamiliarity with students at the school, the security company's presence has been appreciated at MN.
"I think anytime you have more eyes on the building, on the kids, on the hallways, bathrooms, things like that, that helps out a lot," Bayne said.
In spite of Frontline's benefits, the primary goal of Millard is to be able to rely on and have enough of their own security guards, rather than have to use a contractor. This process will depend on when Millard receives and screens enough worthy applicants that they can hire, so they can transition out of using Frontline Security.
"Certainly paying more money per hour helps, but when we are talking about staff who have daily contact with kids, it is more about finding the right people with the right personalities and the right demeanor to do this campus security work," Jelkin said.
Frontline Security is a now necessary aspect of our school, contracted in order to fulfill the amount of security guards needed to keep students safe and secure. The school is also looking forward to being able to hire and rely on our own security guards in the near future. 
"That's always the hope, that we can get more people to apply, get more security guards hired," Bayne said.