Not your average performer
Former MN student takes music industry in L.a. while being homeschooled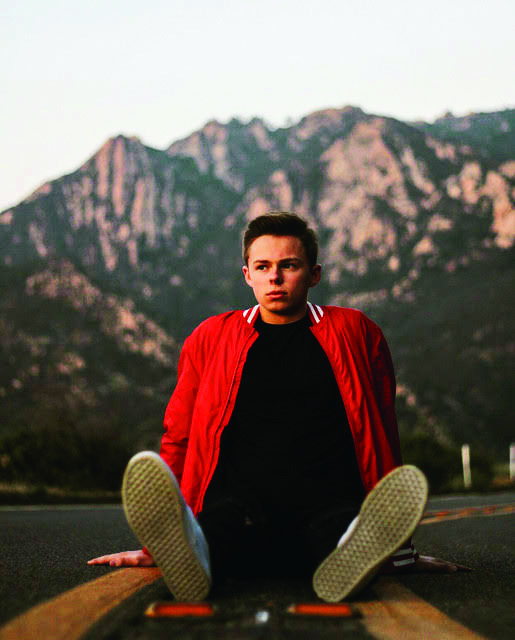 #1 on Apple Music's "Breaking Pop", iTunes "Best Of The Week", Spotify's New Music Friday, peaked at #31 on Radio Charts and still going. These and many more were all achieved by a young musical artist.
Seventeen-year-old producer and DJ Christian Wood is already making waves in the music industry. Also known as Tomos, the former MN student's latest hit, "NERVOUS" with Jake Miller, is featured on countless playlists and music charts.
Recently, Wood moved to Los Angeles to further his career. 
"I reached a point where it was essential for me to relocate in order to further my career, and I knew that I wanted to do music more than I wanted normal high school life at home. I had initially planned to go out just for the summer but realized within a week that I had to stay," Wood said. 
Wood moving also affected good friend and MN senior Riley Tesmer. 
"Him moving away kind of sucks because we always used to hang out. We still constantly talk on Snapchat or on the phone," Tesmer said. "But at the same time it's really cool to see him following [through] with something he's loved."
Now completing high school online, Wood wants to be a full-time producer in the music industry before going off to college. 
"Moving away has definitely been hard on both my family and myself," Wood said. "My family has been incredibly supportive, however, and that means the world to me."
Now based in LA, Wood continues to work for the three long term goals he wants to achieve.
"I [want to] create consistent, quality music that impacts and inspires people. [I want to] create a live show that's not just a concert or rave but an experience that people will never forget. [I want to] take that music and live show around the world on tour with me and the people who are closest to me," Wood said. .
As for the first goal, Wood has  music in production right now with various artists he has "always wanted to work with." His latest track with Jake Miller all started when Miller received a package of Tomos's unreleased tracks and loved them so much that he began writing a top line for one of them, which became their hit.
"NERVOUS" also allowed Wood to perform at the Slowdown, an all-ages live music venue, right here in Omaha, alongside Miller and popular artist Hoodie Allen.
"It was a surreal experience. The Slowdown is a venue that I had always dreamed of playing and getting to play to a sold-out crowd alongside guys like Hoodie and Jake was something I'll never forget," Wood said. 
For Wood, it's the little gestures from fans and supporters that keep him going.
"Even the small things like being stopped for pictures or having people tell me that they loved the song made all the hard work and stress worth it. I couldn't be more excited to play more shows and tours," Wood said. 
Of course, the music industry isn't just tours and playing venues. Wood notes that it is also stressful.
"The biggest struggle is the intense highs and lows that come with the life of being a music artist. One day you feel on top of the world, and the next you're wondering what you're doing with your life," Wood said. 
Although "NERVOUS" might be the latest, greatest Tomos hit, he says it's not actually his greatest achievement.
"My biggest achievement actually wouldn't be "NERVOUS" but "Holding Together". I wrote, produced, and released it out of my bedroom unsure if it was even a good song, and now it has been played millions of times by people all around the world. It made me believe that with enough hard work, my dreams were possible," Wood said. 
Wood's success thus far in the music industry comes from hard work and dedication, and this translates into some advice he has for other teens hoping to make a name for themselves.
"Give it your everything, learn as much as you can, and work harder than everyone else. When you do this, you'll look around one day and realize how far you've come," Wood said. "I think that applies to almost anything in life."