Just Kidding Around
Child Development students work with Ezra kids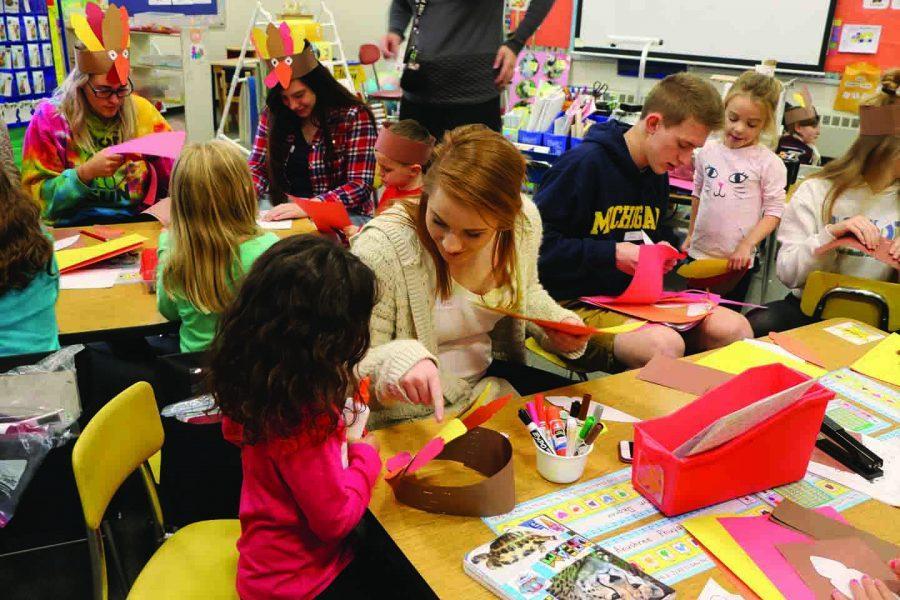 For a few students, getting a taste of what it is like to leave MN during the day and go to another school just to create a lasting friendship between themselves and their buddies is a weekly occurrence. By painting pictures, weaving little paper sheets together, or playing card games, the students who are enrolled in Child Development get to experience a unique bond with their kindergarten buddies.
A program bringing MN and Ezra's kindergarten students together has created a strong relationship between each of the pairs.
The weekly trips that take place on Wednesdays give students time to prepare for the next buddy session.
The first time at Ezra for each semester is relatively similar. MN receives a document containing each of the kindergarten kids' name. MN students then select a name from the list, meeting each other for the first time and finally breaking the ice. From there, they complete a "Get to Know Your Buddy" worksheet. The relationship made between junior Lexi Padilla and kindergartener Charlie has been growing since the semester started.
In addition to making trips to Ezra every other Wednesday, the absence of the traditional classroom setting and working with a partner creates a sense of variety.
"I really like that I can go out of the class -room environment and be in a different place, yet still be learning," Padilla said.
Yet Padilla finds that the relationship built with Charlie is much more valuable, and Charlie has just recently been breaking out of his shell.
"Charlie was shy at first but as the class went on you could see that he was getting outside of his bubble and opening up more. I just started asking him questions and that's when he started to open up. Today he gave me a hug for the first time, and that was cool," Padilla said.
For senior Sasha Liffring, the experience with his buddy, whom he had known already, has created a positive outlook for him.
"His name is Jude and he is really excited to learn and very smart. He can recite the whole periodic table from memory. He is also my best friend's cousin," Liffring said.
Not only do the kindergarteners grow from this, the students also gain valuable life skills that they are able to use daily, such as patience, while also teaching students how to become even slightly more independent and knowledgeable in their childhood development skills.
Every other week consists of its own time of games, laughter, and fun. UNO, Bingo, and various board games are some of the activities both MN and kindergarten students can do. Occasionally the kids enjoy showing students what they love to do also.
Junior Jocelynn Keller sees the program as worthwhile preparing her for post-graduation and for her career. Keller is optimistic of the program and the readiness taught.
"My buddies are Willow and Olivia. They are good kids, and they behave. They are not crazy kids at all. We once did a weaving project with paper, and we put a silhouette on there, and the kids had a lot of fun with it, and they were happy when they got it on the first try," Keller said.
Padilla possesses a similar outlook, certain that this course and the skills learned from the buddy program can assist her later on in the future.
"This class is going to help me out later in life because I want to be a mom. So if I get to be around kids now it'll help me to be able to understand my kids' minds," Padilla said.
This course can also be seen as valuable to any student who decides to take on the responsibility of creating a lasting relationship.
While the homework load may not be extensive, the thoughts and concepts explained in this class such as child development theories create a an environment centered around kids.
"Given that I work at a daycare and I work with kids everyday, it's a lot easier for me to connect with them," Keller said.
Spending only 40 minutes at Ezra once every other week during their class period, MN students have minimal time to spend with their buddies, but they do make the most of each moment.
The kindergarten buddies eventually break out of their shell, presenting their true personalities, and genuinely bonding with MN students.
"One time we were playing bingo and every time Charlie would get a bingo he would act like the candies he got were airplanes landing on the spots," Padilla said.
Their time here can go both ways; on each side, it shows the effort shown by both MN students and the kindergarten buddies to establish and keep a welcoming, friendly ambiance.